| | | |
| --- | --- | --- |
| Index | | |
---

31st December - Wrapping it up and New Years Resolutions
I can hardly believe that today I am closing another year of 'IL Site Diary'. Funnily enough the diaries should actually run with the business year as we bought the domain end of March 2007, but I can't get myself to not run with the calendar year. So it's wrap up time!

For me it was a great year. A year of confidence gained, decisions made, and traditions maintained. We finished 2008 with a Raclette dinner and so we will end 2009, we didn't do Christmas back then and neither did we this year and again it was the right decision, and I started into 2009 with a trip to Fuerteventura and so I will begin 2010.

I took the laser beauty treatments to the next level and moved on from hair to thread veins. And now I even stumbled over a picture of my legs... well I don't have them yet... and that brings me to the resolutions part. My New Years resolution for 2010 is to get MY legs.

And then there still is the book... the book I have been fretting about so much. That definitely is another part of the resolution. By end of 2010 I want to see it published... and if I have to shove it through people's letterboxes myself. That project needs to come to an end so that I can focus on the next one.

Well, the one subject that is likely to go on for a bit longer than 2010 is the recreation of IL. I realised a while ago already that something has to happen. The site has grown rather big by now and my software can hardly handle it. During the past three years we had 132 editions not missing a single week, I created a whopping 426 files which contain 1750 pictures most of which I shot myself - that is a good three files per edition with an average 4 pictures each, and I created 29 videos. Given that this is something I am doing aside of my day job this is an achievement I am actually quite proud of.

Beginning 2009 I got some feedback indicating that we definitely are lacking professionalism... so I wanted to fix it quickly. The new plans and ideas however didn't make me happy. The lack of interaction of the site was a much bigger concern and that was what I wanted to get right in the new version. Looking back now it is good not to have thrown myself into it head over heels. I learned a lot about technical things, about social networks and what makes me and people in general tick. I thought about Inspiration and Motivation, and I believe I have a much better understanding now of what IL should be. So continuing work for a interactive, inspiring, yet cosy place will still be on the agenda for 2010.

And of course one of the most important things will be on the list as well: Our charity work. We will have to re-think the general concept, for my part however, it definitely will be the rowing marathon for Orangutan Land Trust. And the circle is closing... because the training for this will bring me a big step closer to my legs. Yippiee!




And now I will leave you to your preparations to get into the New Year!
I am wishing you and inspired, wonderful and successful one. See you in 2010; tata!
Love
Rika
xx


Back to Top
---

24th December - What are you doing here?
You are supposed to be very festively attending to your guests, your kitchen, your decorations, your ... whatever people are doing on the day of Christmas Eve.

In Germany at least, people would be decorating their trees, and cooking a meal, and gathering the families, and hissing at each other because the respective spouse did not do as expected. But by 6PM or so the tree will be lit, and one might do a bit of singing much to the dismay of the dog, and one will open the presents and sit down for the meal, and everything will be good.

As mentioned earlier, my Christmas will be very different.
I did the tree decorating in the office, baked two trays of the best coconut biscuits there are, and yesterday I even got to wrap two presents, something that I thoroughly enjoy. I love doing that stuff, but it usually ends in an ordeal.
Christmas tree means one day of rearranging house, baking means at least 5 different types 5 trays each, and gift wrapping usually takes hours, hence so far things worked out well for me. The further proceedings will involve a lot of online gossip reading which recently provided joyful moments and sometimes even resulted in the odd column, it will involve a lot of book reading, and most important of all: 
Sleeping! I love afternoon naps and I didn't have any in quite a while. I will indulge in just passing out whenever I like.

And I even got presents. Mum has sent a parcel which is to open at Christmas Eve and if we manage to get the webcam live we will have a family session then; a wonderful calendar came from Australia... we really should consider this continent as place for retirement... and this morning I got another parcel which I ripped open as soon as it crossed my door step.

I know that dear Imola doesn't mind, she might even be offended if I were not keen and nosey enough. So now I already know that I will enter the new year as lady, buffed and groomed to shine. A big 'Thank You!' to the sweetheart!
Well and then of course I am hoping that the snow will stay a bit longer, or better that we get a bit of fresh one. Hubby will be disappointed because golf is not really the kind of sport you wanna play when all is white, but snow seems to make most of the people happy.

It was a bit of a nuisance for those who wanted to travel, but miraculously enough not the snow was blamed, but the people who didn't provide the right gear to deal with it.

Now that we are all where we are supposed to be and Christmas is only a good 24 hours away - gosh, I still don't believe it - I want more of that stuff! Almost a week ago I walked our power walking tour in the snow and dragged poor Vidhya with me.

It is an interesting experience when the usual path all of a sudden is just gone. Felt a bit like a scout. After two hours we came home where hubby already was working on cappuccino and hot chocolate... praise to the inventor of the mobile phone... ahh, it was lovely and definitely worthwhile being archived in our IL-Gallery.

Vidhya performing important service:
The documentation of pyramid building
Only one of many pictures in the
Gallery
And now I am wishing you a wonderful Christmas! If you are travelling, then get home again safely. May everything go well, and may everybody be just happy, ... and don't forget to take a rest once in a while.
Lots of Love to you and your families,
Rika
xx


Back to Top
---

17th December - Is it a female thing?
Right in time for Christmas one can find all sorts of articles trying to explain gender behaviour. Well, shopping is one of those things - not that I would have a problem there - but examples in my social proximity are manifold. A scientific explanation seems to be a bit far fetched, though. We are just interested in different things; put some of our male companions into an Airfix shop or leave them between some computer gadget shelves and you might never see them again - we ladies are not even remotely as bad in regard to handbags. So the trick for Christmas actually is to find them suitable jobs, like shopping for the nerdy kid in the family. He might need all day and he might bring a few things for himself as well, but at least he is out of the way and happy.
See, it is not the shopping that is the problem, it is the time management. Although a lady might seem idling between the shelves, she has an allocated time slot for that in order to fit all the other tasks in as well. Since some of the male spouse community seem to lack this skill, it is our main objective to develop a plan which allows us to cope with everything on our own. If we fail to do so then Emotions will run high.
Well, the one thing I give the scientists, though is the female nest building instinct which is particularly predominant during the Christmas season, and by freeing myself from the Christmas pressures I have run into other sorts of issues.

... and then I was wondering if the octopus using a coconut to satisfy the housing needs might be a lady; smart, cute, witty, ... nothing more to be said!

I might have to catch up on a bit of the Christmas and nest building spirit; I might even consider baking a few biscuits this weekend, or I may not. At the moment I can't be really bothered; all I am looking forward to is a few days off work to be used for reading. I haven't done that in ages and my pile of books is growing.
I will now leave you to performing your final touches to your homes, or to your suitcases for that matter. One week and a bit, and then Santa Claus is coming to town! Just take a little break once in a while, brew a nice cuppa and light a candle, and enjoy the festive time a bit for yourselves.
A cheer for that!
Love
Rika
xx


Back to Top
---

10th December - I think I'm going bonkers
Oh my goodness, all summer was so calm I hardly knew what to write, and now so many exciting things are happening at the same time, that I don't know where to start; hence: Should I confuse you, please bear with me! I'm just a bit overwhelmed by wonderful things.
Firstly, we have a new kid on the block in the Ipswich area. Remember that I once in a while write about 'At the Wall Accessories', showing you little videos about the stuff I bought there? Charmaine the owner, a bit of a chatterbox quite similar to me, apparently had been talking about IL to another customer, and she loves to meet new people. This fantastically Incredible Lady now attended last weeks afternoon tea and we really hit it off. Gosh, she is travelled, has loads of interests, one of which is reading so that I am hoping for wonderful book suggestions for IL, and is just lovely to be with. So right in time for Christmas when IL usually tends to slow down we get a bit of a kick - Yay!
The second thing that happened was a typical internet walk about. It started off with an email from Michelle pointing me to an article in the 'Daily Mail Online' in which a Orangutan named Ruby is mentioned. I had heard of Ruby before and when I read about her in Nita's story I was so happy to get some first hand information.. All off a sudden it felt as if I know her personally, and now I had received another piece of info.
Happy Christmas

So that was how I came to the Daily Mail with all the gossip... and stumbled over Pamela Anderson, and from there into an old article about sexy veg. See, and when I am writing about sexy veg people think I am a bit weird, if not entirely loopy. Another bit of 'This & That' was recommended to me by Vidhya: Two guys who never met, however are running a blog together; one is contributing a picture, the other one a paragraph of text - every day. The other link is a FB page explaining the whole thing a bit.

Well and then I got entirely overwhelmed by a tweet - and by overwhelmed I mean: upside down, left to right and inside out. I am such an old softie. Michelle recommended a tour operator and I got completely hooked. I now will have to plan for a two weeks trip to Sumatra as an Eco Tourist. I just have to! Under this point of view it already was a smart move to have skipped hairdresser visits and doing my own colouring and cut. I will have to stop buying stuff as of now ... oh.... houch... difficult! Only reasonable out-doorsy things will be allowed. This lady has enough trinkets in the closet.

So for now I will leave you to your Christmas preparations. I hope you are have things in place by now, presents sorted, travels arranged....
For the ones who will be on their way by mid next week: I am wishing you a very Merry Christmas and a Happy New Year, come home safely and enjoy a wonderful time.
Always yours
Rika
xx


Back to Top
---

3rd December - The many ways of communication

That was one busy week! A good one, but busy nevertheless. My cold came and went quickly, so the chicken, onion, garlic therapy seems to be working, although I am not sure if I have become a nuisance to my environment. People may just be too kind to mention something. Well, this is a case in which I am quite grateful for lack of communication.

In terms of virtual communications those worldly issues shouldn't matter much though, and time after time I am intrigued how well the virtual world is working. Across half a world I have been it touch with the Asian writing community around Nury and I feel that I really know some of them rather well already, and this seems to be a mutual thing. This column talk with the comments inbetween is taking place in the open, although only the community is getting really involved while the rest of the public is just listening in. It's a bit like a chat at the bar, where one might get the one or the other comment from the guy standing nearby while people on the other desks hear the stream of voices and only stretch their ears when the catch an interesting subject.

I could observe the same mingling of real and virtual world when we went to London to see Dita von Teese signing her book. There might have been some who knew her from shows, but I am pretty sure that quite a few learned about this gig from the internet and respectively Twitter. And the more I get involved and the more I observe the more I find genuineness in the internet. I know, I know, there is a lot of rubbish out there as well, but so it is in the real world: 'Still don't trust the nice man with the chocolate', and 'still keep the lid on your drink when you go clubbing' and 'still don't trust everything that you find written in newspapers and magazines'.

And that brings me to the last subject of this week. I asked you to consider adopting an orangutan for Christmas instead of spending money on gifts nobody wants anyway. So when I wanted to follow my own example, hubby discovered a few not professionally handled issues on the BOS website, which via email and Twitter were quickly resolved. So now hubby is happy - and given he is a security freak I can honestly suggest this as an option. The more that I got sent a wonderful story. Michelle the founder of BOS UK and Orangutan Land Trust sent me her very personal account on how she met Nita, one of the baby orangutans free for adoption.
It is so lovely that I translated it to German and added it to our 'Incredible Stories' section. Again real and virtual world coming together in a very powerful way.
And now I will have to send an email round to remind the Ipswich Ladies of our Afternoon Tea this week, which we had to shift because of the London trip.
For today I will call it a day and will leave you to your Christmas preparations, and next week I might tell you about my recent shopping transgressions... Oh my goodness, I am completely spoiling my serious reputation... if I ever had one...
Hoping to see and hear from you soon,
always yours
with love
Rika
xx


Back to Top
---

26th November - ... and sometimes something Grrr happens, just like that!
by Jen

My dears, I am guessing that this will be a short one. This morning I was struck down by a tummy bug. Luckily these thingies never last long, so I seem to be on the mend, but it stole me a whole day which I wanted to spend writing and taking pictures. So again I had to nick the picture of the day from one of our ladies, this time Jen who shot lovely images showing the beauty of countryside during the dullest of times. And hence I am going to steal one more for this diary. Gosh, I haven't touched a camera in several weeks... what is this about Christmas time that all of a sudden things get busy - and I am not even doing Christmas.

Well, if you are short of Christmas gifts and know somebody who loves poetry and short stories you might want to give our kind picture donor a visit on her work place and have a look at Salt Publishing.

Or you could sponsor a Christmas gift to a charity. I am going to adopt little Orangutan Nita for my mum tonight, but there are other donation options for less or more money. Another very worthwhile cause to look into is: Nothing but Nets - protective nets against Malaria in Africa.
Interlude - Would be really nice to get something finished today... these interruptions are annoying... and I am pretty sure I have not eaten THAT much! There must be a whole society of little people living inside us owning much more advanced technologies than we have. Like these futuristic people in movies who pop a chip card into a microwave kind of device and it gives them all the food they want out of thin air. I am absolutely sure that this is how they top up our own food intake by a factor of 10 or so: Little people living in our guts... - interlude end
And there we are, I am moaning again. That is the good thing about writing diaries; on reading back one realises how little information and how much of a rant one puts on paper... ahem website. So here are my thoughts about Moaners and Whiners.
And now I am hoping that I will be fit soon, because on Friday I have planned a trip to London with dear hubby. I usually wouldn't have gone since it is the last Friday of the month when we have our Afternoon Tea. This month however is different: Ditta von Teese is in London for a book signing, and I just have to see her.
I need to know how someone who always looks so immaculate on photos and telly is looking in real life; and I never attended a book signing. I tried to create some look for myself and tried to get my make-up right: I look like a plastered cow. I need to know if she is just gorgeous, she is plastered but it works for her, or if it is all only working on pictures and for real life it's a big no-no. And since this will be sort of a science trip from which I will be reporting back to you, I am hoping it is all right to shift the Afternoon Tea a week later.
For now I am wishing you a good week and a bit of fun with my 'This and That' that collection. I added a link to a Metric Conversion Calculator as well, it's at the bottom of the turquoise frame at the front page, right below the 'Previous Editions' link.
Stay clear of the winter nasties and stay healthy and fit, have a great week
Love
Rika
xx


Back to Top
---

19th November - Sometimes something good happened, just like that!
Oh my goodness, today it got quite a bit late. I have become really tired now so I will keep the blog part short. Although I have to say that I am feeling really rather good altogether. It seems that the blue light I referred to last week at least is not harmful. The fatigue is just a matter of lack of sleep - I should stop tweeting before going to bed...
However, I had a wonderful encounter in regard to .... Ahh, read for yourself! Sometimes it's just wonderful that something works better than ever expected.
What else? I have been tweeting quite a bit with the Orangutan people again and I got some emails and newsletters as well. An article in the Washington Post made clear again how different the approaches of the different charities are. However understandable both of the positions are, I just can't but help and follow the 'heart' approach. Orangutans, like the other great apes are just too wonderful to not help an individual. That however does not mean that other people should not decide otherwise... as long as we all start caring, for animals, environments, humans, especially children.
Vidhya our new IL is putting all her efforts into putting Pudsey, 'Children in need' events together at our work place most of which only people with access to the premises will be able to attend; however the challenge remains to collect a thousand pounds and you can help her achieve that by supporting the Children in need fund-raising page.
And as for Christmas please find my plea for sponsoring your Christmas gifts. Well, should somebody feel the urge wanting to give me a pressie - now you know what I would like to have! xx
Soon I will have to start a new diary, the fourth one! I cannot believe that Project Rika started five years ago and that IL is two and a half years old already, seeing its third Christmas soon. What a journey and so many wonderful people I met. Sometimes on just has to let good things happen.
So my dear wonderful ladies, again another week is gone by and I am wishing you a lovely weekend.
Love
Rika
xx


Back to Top
---

12th November - From low to high maintenance... a necessary evil?
I used to pride myself of being low maintenance. I now know that there was a bit of martyr attitude going on - I look crap, but at least everything around me is cost efficient (meaning cheap) - but there was really not a lot of maintenance necessary.
I mean, my wardrobe was boring as hell, but easy to keep up with - wash, hang, wear, finished. If you don't have choices you don't have to think - easy! Without nice clothes you don't need jewellery - very cost efficient and even when I started to have nicer clothes I mainly bought 10 quid fashion jewellery.
But see, that is the sort of low maintenance husbands are talking about - not costing a lot and not having to think about birthday, Christmas and anniversary presents. I think I can confidently claim that even with a heightened dress sense I was still in a bearable range of maintenance - although I quite liked getting some sparkling diamonds around the neck AND the finger for my silver anniversary.
I now discovered that I have become extremely high maintenance in a different department: Beauty Care!
This process started age induced very sneakily a couple of years ago. Hair dresser visits had become more regular... and needed to be more sophisticated in terms of colour application already, when after thorough research of the options I booked myself an appointment for laser hair removal, and now there is a new target: Thread veins.
Oh what a hypocrite I am; I never approved of cosmetic surgery. Medical reasons - Yes! But not cosmetics. Yeah, yeah! All of you who are like me, but younger: Hear my words!
Get older and forget about all this pretentious crap. I might be still not convinced of a boob job - wonderbra is just doing a too good job and they would get into the way during sport - and botox as well as these puffed up lips I find a bit scary, but a little vein here and there, some hairs which need to go... Yep, well worth the effort and the money.
Who knows what's next?
Another maintenance issue is devices one needs these days to survive. The simple mobile has become an iPhone and since I have it I am carrying half my office in this little metal box, and then there is my most recent gadget: I got me my very own sun.
And now we are straight off towards Christmas. Tomorrow night the Ipswich Ladies are going out for a dinner and then it's six weeks to Christmas and eight to the New Year.
Time is not likely to ask us whether or not it is OK that it goes quickly - we have to make the best out of it as we go along!
Looking forward to seeing some of you soon, and all the rest of you have a great rest of the week and a glorious weekend!
Love
Rika
xx


Back to Top
---

5th November - What has ballet to do with our really old days?
Obviously addicted to
online ordering now!

Brilliant for tights, stockings and socks of all kind:

Well, this weeks article I wasn't really sure where to put. For a column it wasn't funny enough and I had been writing one of those about ballet before.

This article was supposed to give more info why ballet is a good type of sport. So it went into the sport section. And now that it is finished I realise that it could well have been a match for the health section as well. Hmmm... that does show that sport and health is somewhat related and that sport is not necessarily for crazy people striving for medals.

Of course I know that everybody knows that doing sport is healthy, it's just that I know quite a few people as well, who like to use this argument for not doing sport.

The older I get... gosh, that is one of the phrases I never wanted to write... the older I get, the more my focus is on how I want to spend the last decades of my life. With a bit of luck I still might have about three more to go; the first one of those will be pretty good, I guess. I have laid a bit of good ground work food and sport wise, that should bring me well into my 60s. After that... it all depends on how I am spending my time until then.
And I feel that quite a bit of an effort is needed to make the last two decades of my life worth living. So for me there is no fretting anymore: There are a few things which have to be integrated into my life now in order to to have a good life later. And luckily some of these things are even fun, and some turn out not to be as bad as I thought they might be.
For example I have been rather strict with the sugar experiment and have only eating sweets on occasions like holiday and birthday. Now we had leftovers from the Halloween sweets which - good girl that I am - were taken to the office. Then I thought: 'C'mon, Halloween IS an occasion!' So I had a KitKat and some milky children's chocolate - and I didn't like it! What a disappointment, and relief! They had been favourites... and now: Nothing! After that I tried a German Christmas biscuit and today a Ferrero Rafello, with the same result. After so many month not thinking about sweets, my taste buds had forgotten about it as well! Yippieh!
So yes, thinking about the future that brings us to the end of our lives is not nice, and it raises a lot of worries, but there are things we can do now to at least better our chances!
Love
Rika
xx


Back to Top
---

My garden is as confused as I am. After the incredibly dry summer some of the plants seem to think that they had a winter break and now are starting to flower, while after an incredibly dry summer I don't seem to be able to comprehend that it is over.

I constantly forget to take a jacket with me and if somebody would have asked I would have insisted that it is not later than beginning of October. But we already have switched back from daylight saving - if we saved so much of it, where the heck is it gone now? - and I feel completely out of whack. So I am begging for forgiveness should I write a lot of rubbish.
Although I must have had my clear moments during the past year. Admin-Hubby checked the IL vitals last weekend and it is kicking all right! During the past year we tripled our hits/visits! So a big 'Thank You!' to all of you who drop by regularly.

Of course the confusion might be a result of shopping deprivation - and with that I mean shopping for stuff one doesn't really need.
If you look at the picture of the week it becomes obvious that of course I did buy a few things - most of which I was told are 'writers essentials'.

Yes, my dear friends, after a rather disappointing start into my writing career during which - as expected - all my manuscripts were rejected, I am now very determined to self publish. I am in contact with a lovely young art student who takes an interest in illustrating the pamphlet and if that is working out I am hoping to be a published author by end of 2010...

Additionally it is somewhat confusing to go into the garden to take a picture of a confused plant and then to find a parcel thrown over the fence containing said writers essentials.

Now, since we are talking about writing and books I would like to recommend a couple:
In case you would be looking into purchasing the one or the other book either for yourself or as a Christmas gift I would like to point you towards two authors. I haven't read their books yet, but I am recommending them for good reasons: The first one is a friend who has self published his first novel - well, and of course I admire that and would like to support him. I am reading it at the moment and I can tell you: The beginning is very interesting and different from what I have ever read. So have a look into Carnal - Somewhere over 40 winks
The other one is our good ol' Nury Vittachi. He has written quite a few children's books and the one I got for myself - Wicked Christmas - is a children's book for adults. I do like his columns, but that is not the reason why I recommend his books. He is very active in promoting writers, teaching and enabling. He was challenged that these days that the printed word is of no interest for most people since the internet is taking over the world. Well, he wouldn't be Nury to take on the challenge and now wants to prove his point - oh well, or he just needs a bit of money for Christmas gifts... Nevertheless, it doesn't hurt to have a look and to support a supporter.
Well, and while we are on it one might want to have a look at one of Nury's columns on how to detect emotions these days. I chose this one because it fits the bill in regard to my own column which is about 'Intelligence' - no really, I am not confused now: It is related!
So, time to wrap up. I hope I haven't confused you too much, have a great rest of the week and a wonderful weekend!
Love
Rika
xx
PS: Oh see, toldya' brain is all over the place - This is the IL Afternoon Tea weekend. If you would like to come, drop me a line (rika@incredible-ladies.com) and I send you an email with the address!


Back to Top
---

22nd October- Repetitions, Repetitions
Hmmm, am I running this website for too long? I took a picture from my study window and now realised that I did almost the same thing exactly a year ago. I swear! That was not planned. However, I have to say that this birch tree is somewhat intriguing at this time of the year. And if I were a really good photographer you would know what I mean.

Additionally around the same time last year I did a video to support our local businesses - and to excuse one of my shopping sprees - showing you what I got me from Off the Wall Accessories. Well, last year it was scarfs, this year it's all about hair and hats.

Another local business we featured about a year ago and which had closed down, is back again: Mike and his egg farm is back! Well, and Newbourne where the eggfarm is located has a nice farm shop as well.
And for the rest of this week's update things are about tying up some loose ends. I now got the logo of Orangutan Land Trust and so I updated our chartity website, as well as Malcolms fundraising appeal for British heart foundation.
Well, what else is new?
Ah, I did another ballet class. The first one was a bit ... weird... but this time it was much better.
I didn't come up with a fresh article this week and I will have to see how that goes for the next. I am planning to eventually have the next round of my hair removal story. I skipped a year of laser treatment and in the meantime I am more fluff than buff again and had to revert to good old shaving. Now I am going to give the laser another shot. So this edition HAS all become about repetitions.
Well, I will do my best to find a new angle to it.
Will keep you posted!
Love
Rika
xx


Back to Top
---


15th October - Likings and Squeamishness
I almost wanted to scream: Yay! I didn't buy a thing this week and I quickly had to take my arms down and admit that I did. Tstsss... the internet ... is it a good thing or is it a bad thing? Well, at least I bought something I definitely needed: Bras! Normal ones, for T-shirts. Losing fat is a nice thing but unfortunately not for boobs. During the past five years I actually lost two cup sizes, what is a rather sad thing when you start off with a C cup... But there is help at hand. I got my first push-up. Oh my goodness...! What can I say: The wonders of modern technology.
So the next time I go to the movies with the ladies I can impress with an entirely new cleavage. Talking of movies: Now that the summer is over we feel the urge of going out more and so we went last Thursday to see the 'The Invention of Lying', with very mixed results. Oh well, wouldn't the world be oh so boring if we were of the same opinion all the time. BTW: Imola saw 'UP' (in 3D) with her kids and she loved it. So although a movie for kids worthwhile a shot.
And now that the days become shorter and the nights longer I started to read the 'Curious diary of Mr. Jam' again where I stumbled over a piece of holiday note from one of the commentators which made me think a bit more about why we are so squeamish about nudity. A while ago I wrote another column about the matter when a TV lady organised a flash mob to raise awareness in regard to body shape. She had hired a sightseeing bus to drive through London and all the ladies attending were supposed to take the tops off - in the end most of them and she in particular chickened out: she wore fig leaves.
Well, I am chickening out as well. During the last photo shoot I had taken a few topless ones - actually some of the best ones of the whole series - and I don't dare publishing them... and so I rest my case!
... and no photos this week: only bought useful things and nothing else offered itself to take photos of. However I nicked a wonderful sunset from Carine's flickr stream for the picture of the week. So why don't you go and have a look what else our French friend has to offer.
Enjoy the rest of the week, and be good, ... at least don't do anything that I wouldn't ;o)
Love
Rika
xx


Back to Top
---


7th October - Ahh... who am I kidding?
It is official! I cannot deny it any longer: I do love shopping! They say when a person was overweight and loses all the fat that one still keeps the perception of being a fat person, buying too big clothes and not gaining the confidence one should have, given the new shape.

I always hated shopping. Gosh what a nightmare: Fitting rooms, nothing fits, and in the end nothing goes with what is in the wardrobe already. And I still think that is me... , but it isn't. I am usually really focused now. I have the one or the other hiccup, but so far there were only very few things I couldn't turn into a decent outfit. Sometimes it just needs a bit of time and patience. And now I found the next pieces of my purple evening gown puzzle - a lovely ring and a purse.

I just love to have a whole morning in town, just by myself. It only happens twice a year or so and usually I only want to buy something useful like some soap from boots, and then I am ending up with a bag full of lovely treasures.

YaY!
This time I was so excited that I instantly switched the camera on to show you in detail what I got me. Well and then there is the thing with the dance class. But that is a different story!


Unfortunately it seems that I don't need anything else... well, a hair thingy would be quite nice, wouldn't it...?!
Ah, and let me know which outfit you like best, just drop me a line on rika@incredible-ladies.com.
Take care!
Love
Rika


Back to Top
---



1st October - Got taken over by technology
I know that geek-wise I am not the brightest light under this sky, but I thought I had caught up a bit. I own a desktop, a netbook and an iPhone, a pocket camera, an SLR camera and a camcorder (no need to think about breaking in, though: We have an alarm and hubby is close to having a OCD in regard to house locking)
However, I thought being able to sort all the cables to connect those devices and to cope with the respective software would make me geeky enough to feel confident in the world of computer people. And now it turns out that, again I can't upload the videos from my Germany trip because my mum has the even smarter camera. This HD (high definition) thingy has a format that none of my software can digest and since I am too stupid to upgrade I had to call in my hubby administrator to do that for me.
Similar thing with my iPhone... every toddlers knows how to buy songs and when I thought I should support Cancer Schmancer by buying 'The Nanny' - Fran Drescher's song from iTunes I failed miserably. Well I bought it, but it ended up on my computer and not on my iPhone.
Oh well, how important is geekyness anyway! It is so much more important to know how to order stuff from the internet!
| | | | | |
| --- | --- | --- | --- | --- |
| ... practising for Halloween! | | So there I am using my recent purchase of Rhassoul clay - still hoping to match inner with outer beauty... oh well... and my new pair of shoes which are to match the corset - what they do - and most importantly: They match my feet! | | |
Not being able to build the German galleries I had a bit of time to attend to writing some stuff and since a lot of people asked my about reducing the waist line - corset would be one of the options - I wrapped up a few things about Tummy & Co. Some of it is redundant to what I already have written, but some of it can't be said often enough... so enjoy the lecture!
And now hubby is preparing dinner and I will do the upload. Have a great rest of the week, enjoy your weekend and see you next week... hopefully with the pictures then!
Love
Rika
xx


Back to Top
---



24th September - Celebrity and what else matters
This funny tiny creature - less than half an inch wide - came to visit on my desk. Completely tame it was walking with the wings spread out and gracefully started sucking on the sugar grains I had shoved between it's front legs.

It is really rather amazing who is taking to the catwalk as a designer these days: I thought Siena Miller was supposed to shoot movies instead of wielding scissors and measuring tape. Oh well, turns out it's all the sister, dear Siena is lending the name to it. Yes: London Fashion week is on and I am envious! I have great fashion ideas; I have ideas which might even look good and fit and suit women - but I am not a celebrity, so nobody would care a ... even having models sauntering down that strip of elevated wood dressed in nothing but a bit of net curtain doesn't cause a stir anymore.

It looks pretty dim for my future as a fashion designer, so let's talk about my skills in modelling.
I now have put on the gallery of the shoot with ChrisW, and from looking at those I have to admit: I wouldn't be likely to land a job at a fashion show either.
My career as a writer is similarly stuck: getting through to a publisher is harder than a trip to the north pole - you know that you can hire people to get you there these days, right? Well that is what agents are to do for writers: get them through to the publishers. Since my book was rejected by any agents of a reputation, I have a hunch that it might be a good idea to keep my day job for a while longer. A friend of mine just published his first novel on lulu.com, though. Maybe self publishing will become my route to fame one day? Well, you may want to consider his book as a Christmas gift. Would save you some trouble finding something and would make him a happy bunny - it's a psy-fi novel... I got my copy today and it sounds intriguing.
Another thing I envy celebrities for is the impact they can have. Take Vivienne Westwood for example: I never understood her kind of fashion - although I once saw a cute bag which I couldn't (wouldn't) afford even in the sales - however, I like the women; and because of her status she reaches people. So any tips for me on how to become a celeb? Now Channel 4 even discontinued Big Brother. Not that I ever wanted to, but the one chance to measure myself with the dumbest of people in a race to become a celeb is out of the window...
So I'd better stay 'an ordinary mortal' for a wee bit longer and rather go to the movies with the girls and have my monthly afternoon tea this Friday. And it is OK! A great lady, Isabel Allende, put it all back into perspective. It seems that even she has her issues with celebrity and just doesn't bother but goes ahead with what she feels is important.
With this in mind I am looking forward to the movies tomorrow, the afternoon tea on Friday and the rest of the year with all of you guys. Let's make the best out of it!
Love
Rika


Back to Top
---


17th September - I am hanging... again!

Lake Steinhude

Just pretty

Oh my goodness, it is so late already. I alway underestimate the time when dealing with pictures... about 300 of them. My mum has sent me 4 CDs with pictures and videos from my trip with her to Bad Nenndorf. So all ther will be today is the travel diary and tips for the region.

I hope this will be helpful for all of you who are after a short trip abroad with a bit of sightseeing, a bit of calm and a bit of local flair. I still have to do the gallery, but already dotted the one or the other picture around.

And a bit querky
Oh yes, and throughout the week I have been amending the Environmental Charity page. I have almost all the logos now and I got some more links, so this is starting to take shape now. And for a bit of fun we have a Nury Column again: On family issues.
Next week the Ipswich Ladies are going to the cinemas, so keep an eye on your mail boxes, and if you are not on my mailing list... drop me a line on rika@incredible-ladies.com.
Now your humble narrator has to upload and to go to bed. Otherwise I will find myself under the desk tomorrow morning.
Night night all and have a great rest of the week
Love
Rika


Back to Top
---


10th September - Charities and Photos

Well, the two don't have anything to do with each other; it's just a mere coincidence that things all happened at the same time. And since I felt good in busy-beeing I thought I'd take on the challenge and put it all on.
So let's get started with the charities: Firstly, please consider sponsoring a friend who is doing the Bupa Great North Run, a half marathon. He's a boy, but well, who cares: The poor thing is working really hard to get back in shape and he deserves a bit of support - and our dearest spouses supported our Race for Life efforts, so it's only fair! He has written a bit of an appeal himself, so please have a look!
Secondly, I have been thinking a bit more about our charity approach in general and jotted a few things down. You may have seen the BOS link and the cute Orangutan picture on the main page, but there are so many more charities doing great work, parts of them working together with BOS, so I decided to link some more of those and give you a brief overview.
And then I got the pictures of the photo shoot back in July. Chris the photographer had scanned my favourites and put them on a CD which then came through my letterbox the other day. So now I have written a few things around it for you to see. Again my leg obsession is covered en detail - well, I am hoping that thanks to these photos actually this will be over soon, so that you will be relieved from the subject. And last but not least I felt inspired to a column about women. This might be something enjoyable for our gentlemen visitors as well, so be welcome and have a look.
For now have a lovely rest of the week, it's getting a bit colder and darker now, so enjoy a tea and probably the first candle light,
Bye-bye until next week
Love
Rika


Back to Top
---



3rd September - Just a Quickie

Hello, hello, hello, ... I am back from my long weekend in Germany and here is just a quick preview of hopefully next weeks travel documentary. Since my mum had the camera while I was relying on my iPhone I only have very few photos. And it happened so much and so many colourful things: This just needs photos.

We got so lucky because none of what happened was planned. We all of a sudden were in the most beautiful of town fairs which we attended for two days and which was an almost overwhelming display of colour and sound.
Then again, by accident we stumbled across the best shopping opportunities ever, in places where we didn't expect them, and well - food I don't even need to mention: We were in Germany! The restaurants are good anyway and the festival offered all the things I am missing from the Christmas markets.

I love to live in England and the only thing I am missing are those markets - and there I was, bang in the middle of junk food heaven. I had promised me an ice cream cup anyway with loads of whipped cream - I actually got two in the end - but I didn't expect to get a ham roll - so I got two of those as well, one each day.

I know! It looks disgusting, but if you like pork and a good baked ham then this is the best thing you can get.

Trust me!

One of the three new blouses/jackets just in time for the colder weather!
So now I am trying to adjust back to the real world and to catch up with everything. I am hoping that we will have a nice fall and I am looking forward to the beautiful sunsets we usually have in September and October. If you have nice pictures of those I'd love to have them for the 'sunrise - sunset' gallery I am planning.
Have a great rest of the week and a smashing weekend,
Love
Rika


Back to Top
---


27th August - A murder mystery and the future of Incredible Ladies
Not that the two would have anything to do with each other, but finding a huge dragonfly decapitated yet still wiggling on my patio is a bit unsettling and I would so much like to know what happened.

I can only guess that in the cool morning breeze steering was not the dragonflies forte and a quick and playful slash with a claw attached to a cat's arm might have stopped it in it's tracks.

As for the future: It is happening, apparently... We started building a new IL site; and I am saying 'WE' because all of a sudden everything has changed. We are a small team of people now.
Rather than me sitting and typing away in my little office, this time things seem to be going according to IL philosophy right from the beginning: Follow a dream, work together, DO something!
We all want to build the best site there ever was... well, we will have to see about that when your verdict is in, but we surely will give our best. And thus it will be a bit bigger than planned. No idea when we will be finished since we all do this part time and there are things to be figured out which haven't been done before... From all the '...' you might guess: We are still thinking a lot, figuring out how to approach the matter efficiently, getting our resources together and refining the vision.
So I am going to take a short break over the Bank Holiday weekend, travelling to Germany. Three blissful days of pampering and shopping with my mum - Yay! And when I am back I should be refreshed enough to roll up the sleeves, sniff out the matter and have a dive into it.
Will keep you posted!
Love
Rika


Back to Top
---


20th August - Wildlife invading
Not just that it is the time of the year when all the creepies try - and usually succeed - to get into the house. Wasps and flies seem to have moved in permanently, although we are pretty sure that we manage to kill some of them, but due to their lookalike qualities one never knows; it's a game with the psyche they always win.

With confused bumblebees I got really good now. Some years ago I had problems catching them with a glass, now I can take them with my bare hands, although I am ever so grateful when they don't start humming; and the other day I found some delicate wings which I have seen before on huge dragonflies. This one apparently lost the struggle against the conservatory heat before I could recover it.
The fact that I only found the wings might have something to do with our cat Vinny who likes to eat crickets as well. Now I know how the tales about fairies came into existence. I think the story goes that they don't get along well with cats... there you are!

The other day nature turned it up a notch.

For some reason big cat Moritz loves to sleep in the searing hot conservatory. I only can assume that the hedgehog got there accidentally. It turned out that he had lost an eye. He might have smelled the cat food, sneaked in for a quick and easy meal and then being half blind didn't find the exit.

The poor thing was rather flat and probably a bit annoyed when he got lifted up and drenched in camomile tea for a good eye wash. It really doesn't help that these fellas curl up. On one occasion my fingers got trapped and I could let him dangle freely - THESE are the tummy muscles one wants to have!
Having had a proper meal and loads of drink he demanded his freedom. Given that the eye didn't look infected we gave in and him his will.

I just love these prickly fellas, although he did his best he was just not heavy enough to prick through by only using his body weight when I held him.

When we moved here 10 years ago we only saw the occasional hedgehog, especially in early spring when they get really hungry.

Now we definitely have three residents and by the looks of it they have been reproducing. This chappy was already rather big and thus well equipped to get through winter.
So I am rather proud of my wildlife garden success and hence I am claiming the picture of the week for myself again. He is just too cute.
Well, but it did not stop there. The next morning I had another visitor, this time in the living room. I had seen him before. He seems to like the closeness to the house and was residing in a Chrysanthemum pot. The next time we met it was in the water plant which I had potted and watered for a friend to pick up and now he was in my living room. Absolutely inappropriate for a frog, so I think.
He absolutely disagreed and hopped his way towards some shelves. THESE are the leg muscles one wants to have. Gosh that little guy was fighting it. With a big leap he vanished towards the pond. Let's wait and see when he will be back.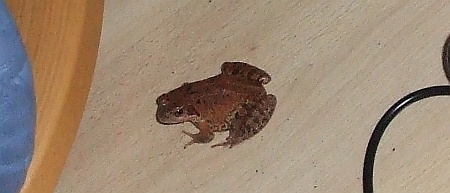 The one thing I learned was that we humans are wimps. These guys do what is their nature without moaning and they have muscles we only can dream of. Imagine the hedgehog sitting in his armchair deciding to not curl today because it's too exhausting...
So well, that was my week: Working for the new IL site and keeping the wildlife at check. On Friday we will have the Afternoon Tea! One week earlier this month. Next week I will be in Germany for an extended pampering weekend with my mum. And then the school break is over and everything will be back to normal. Once everybody is back we should plan a bit of mischief again. We neglected that quite a bit; ideas welcome!
For now let's call it a day. I will go and visit my pond fish. They are spawning and this weekend five of them are going into a huge pond at a friends house. I still have to take my choices.
So I am hoping to see you on Friday, have a great and sunny rest of the week and a glorious weekend!
Love
Rika
xx


Back to Top
---


13th August - Time again to get the hang of things
Since a couple of years I am observing that not just the trees have an annual rhythm but my life as well. I usually encounter a down time after the Christmas break when February seems the longest and not the shortest month of the year, and when I feel drained from colds and lack of sunshine. That is when I am telling myself: 'Soon is summer, then things will get better all by themselves'.

Well, they do! Although my actions are not really focused throughout the first half of the year. Everything feels a bit easier with the sun out and the air a bit warmer. I feel that I deserve a bit of freedom and idle time. And so spring goes by and not a lot of the things that need been doing are getting done.

Eventually the summer break approaches and that is when I am planning to catch up with everything: DIY, gardening, having parties with friends, spending a bit of time with hubby eventually... And I am doing most of these things, but for some reason the holidays are always these two weeks too short to fit everything in.

Now that the break is over it is time to focus. Batteries are recharged, weather is still warm but the mornings already are smelling like approaching fall, desperation and a recollection of the previous years is kicking in: Soon it will be late autumn and the drab season begins.
Mood levels are bound to sink and everything that is not done by then won't be done.

This is the time for at least one of my lists. I need to SEE what needs to be done on a regular basis to fit the other things in, otherwise I will just be swapping tasks and nothing gets done properly.

I already was rather good with the training during the past month, but as smart as I am I have arranged for another Bodybuilding photo shoot for next February. The worst timing ever: See above...

So I have to crank it up a notch and I am hoping that a deadline might give me the kick in the rear which definitely is needed to get me through winter.
Additionally I want to do this indoor rowing marathon next summer. Thus training needs to be scheduled nicely around the day job... and around the washing, since I hang my laundry in the same room where the rower is housed. Better not getting started on bigger houses...
The plan is to religiously stick with the schedule so that I can vehemently defend my free slots in order to do all the other stuff I want to do... and those are the things I am going to tell you about later!
For now I am hoping that you had a great summer break, that going back to the "Same ol', same ol'!" is not too big of a shock and that you are getting the hang of things, too.
To a successful autumn!
Love
Rika
PS: See as well the articles on 'Bringing it together', 'Bringing it togehter - The sequel', 'Time Management'


Back to Top
---



6th August - Oh my goodness: Me and shopping!
Somebody new coming to this site must think that all I can think of is new merchandise. Well, it just so happens that during the past two month three things took place: birthday, silver anniversary and holidays; and since we are staying home and only taking day trips to London sweet husband felt obliged to generously spoil me. He claims that he is happy seeing me happy... ahhhh, loads of brownie points for him!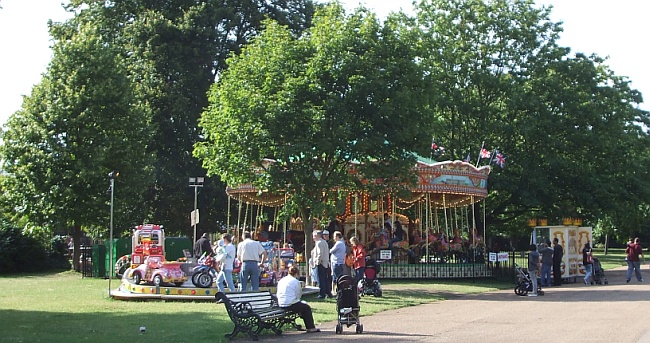 Kensington Gardens - London
Now the holidays are over and work life commences - with loads of plans: Me and my ideas, really!
Not enough that the day job is calling for me and that I can expect a few changes there; no, I have lined up some more photo shoots for which I will have to be really rather determined in regard to gym attendance. The last photo shoot was fun and some of the pix are really rather good - saw the contact sheets so far - but they reveal as well that this lady still has quite some work to do.
The indoor rowing marathon planned for charity next year thankfully goes into the same direction and should help to shed the few pounds, but nevertheless: The work needs to be scheduled! And done!
Well, then there still is the task of re-doing the IL website. It seems that I have found some wonderful helpers and if everything works out we might end up with a really kick-ass site. That really would be a dream come true.
And as if that were not enough I have a new idea for a book - nope, again not a novel - more something that again nobody will want to publish, I want to do a few more training videos and of course I will write my weekly pamphlets which you hopefully will enjoy.
For now I will call it a day. The weather is nice, windows are open and I can hear hubby rumouring in the kitchen preparing dinner. Oh, and I still have to decide what to wear for work tomorrow and the bag needs packing. Oooof, all those things one usually does routinely have slipped my mind... well, that's the idea of having holidays, I suppose...
Enjoy the rest of your holidays and if you are working... well, take it easy!
See you next week,
Love
Rika
xx


Back to Top
---


30th July - Eventually - already? - Holiday Season
Oh my goodness, I'm on holidays and I am busier than ever before. Firstly I need to stress - again - that I still can't believe that it is end of July! We didn't have a real summer in England for the third year round and a few days ago I used the word 'Christmas' for the first time - Yack!
Before...

A friend who lives in Vancouver got luckier, or so he thought: After several years of summers going astray they now had the most gorgeous weather since May and hence enjoyed wonderful street and music festivals. Looking forward to his holidays with travelling the area a bit, he now is hiding in his houses basement instead, because summer thought it a good idea to turn the heat up a notch.

Will human kind ever be happy about the weather?

When we have the new IL site - which hopefully will be the best site ever to communicate stuff throughout the world - we have to have a poll about the top locations to live: I need to know how much I have to save up for the move to my perfect retirement home!

The rest of the week has been dominated by two big events. On Thursday I had the photo shoot: Again 'oh my goodness' - such a great experience! I can't show you any photos yet as the photographer is using film, and I am waiting for contact sheets being sent to me, containing about 250 pix. We did go to the locations which I talked about last week, and we shot all day. Two things I didn't anticipate, though: It was the only day of the past weeks with the most gorgeous weather, what made it the perfect first day of my holidays, the more that it became a beach day - resulting in a huge sun burn; and flexing every single muscle for a whole day is the hardest workout I ever had, additionally I carried 20kg (about 3 stone) from the parking up that hill - resulting in a huge muscle ache.

Pah,... it was worth it!
Although I haven't seen the pix yet I am happy like a Cheshire Cat. The experience was utterly... 'liberating' is the word that springs to mind. Not a mind-blowing word, but one that sticks. Chris is the kindest person and he explained about light and what works and what doesn't. I completely forgot about wobbly bits and that I didn't have a clue on how to pose. All I wanted to do is to give him the best I could. That doesn't leave a lot of time for being squeamish or gigglish.

And then on Friday I had the most wonderful day in London. The calories which I piled on then, I worked off in the garden. It is the time for the once a year chop back the wildlife session, and when better to do it than during the holidays - if there weren't the occasional showers.

Now I am hoping for a dry spot tomorrow so that I can at least get the patio finished. Wouldn't it be lovely to sit in the garden for the Afternoon Tea on Friday? And I am hoping for the contact sheets to fly through my letter box. Although I loved the day of shooting I have those moments during which feel a bit like after an exam: The deed is done, one can't change the outcome anymore and nevertheless there is this knot in the area where the stomach belongs.

But that might be just hunger, all this writing about food made me horribly peckish. Have a great rest of the week and a smashing weekend!

Love

Rika

... and after pruning.


Back to Top
---


23rd July - Location, Location, Location
| | | |
| --- | --- | --- |
| | | Did I tell you already that I got an email from a photographer asking me for a photo shoot? Gosh was I smitten with surprise and tickled around the ego. After an intense email exchange I decided that he is not a mass murderer and agreed. So tomorrow is the day! And last week I went out to find locations. You know that we are talking about Suffolk, don't you? It is a nice calm area to live in, no surprises weatherwise or otherwise - some call that boring. Well, having to look from a photographers point of view I found it rather hard to find the right background for a pale, oldish person like me. Tomorrow night I will know more about my qualities as location scout and model; whatever the outcome, at least I got inspired to a column. |
Another lovely type of location, and much better suited for photos is Fuerteventura! Christine from La Ola boutique at Playa Esquinzo, Fuerteventura is renting out self catering appartmens - the perfect escape from the English winter... and summer.

And then I would like to announce at this early stage that the Afternoon Tea at my house will be 'on' next week, despite holidays. Dear hubby is already keen to escape the chatter by making appointments at the golf course, so no reason to postpone; hoping to see you on the 31st.

And now I am sending you off to enjoy Nury's column on 'child education' and Sir Pilkington's blog on 'spidery stuff' while I will attend to the bathroom. Will need some time to groom the ol' gal into shape for tomorrow.
Have a great week and please all perform a little sun dance for tomorrow!
Love
Rika


Back to Top
---


16th July - One project goes another one comes
Now that the Race for Life season 2009 is over, all there is left to do is counting the money! Given that out team was 2 and 3/4 ladies short compared to last years team we did rather well; didn't make last year's target but nevertheless raised a whopping £924.11. And as one project is over the next one crops up - actually two projects are creeping up.

Firstly the next year's charity event has to be planned for. I already mentioned that charity work is a more complex thing than anticipated. And now I found something to put our minds to - well, for starters I will put my mind to it and then we will have to see how we will organise the whole thing: I have decided that next year I will do an indoor rowing marathon - that's on a rowing machine - for BOS (Borneo Orangutan Survival).
It all depends on the location and the scale we will be able to do this, but I am thinking in the lines of sympathy miles you could row and get sponsored for, or if some of you would like to go ahead with Race for Life again or some other charity just let me know. We just entered another brain storming phase and we need ideas.
The second project taking shape is the re-do of Incredible Ladies. Whooo, a scary process! But I realy would like to have more interaction with you girls. I got offered some help and if that works out - and it pretty much looks like as if it does - oh wow! then we might end up with the best site ever!
| | | |
| --- | --- | --- |
| | | And then of course I went a bit silly again: A girls needs a bit of a timeout as well, doesn't she? So I got me - actually my very sweet hubby got me - the full series of 'Sex and the City'. Oh my, a big carton full of CDs! But it's interesting: After the first series the make-up and the style changed quite a bit. And it's a bit like a time warp into the 90s - whooo, the 90s were really rather horrible. I can't believe that I actually had permed hair and wore blouses with tie. Will we be looking back to 2009 - how is this decade actually called? And will we find this fringy hair-dos and layered A-line looks as horrible? Ah... it keeps life interesting and we always will have something to laugh about. |
The best remedy against everything bad: A good dose of laughter!
And with this I will send you off into the holiday season. I hope you will have a lovely summer.
Love
Rika


Back to Top
---


9th July - A lot of charity
Aleks
Determined and in
her runners world

Last night we had the second run of this year's Race for Life season in which Imola and Aleks our new team member gave their best at Trinity Park, Ipswich.

For now I will just give you a few impressions of the event and then we will have a final report next week when we will know where we are standing money wise.

Now that we have done our bit for RfL, the rest of this week's edition is all about my new favourite campaign:

 Oranguntans!

Well, 'Race for Life' would be a title fit for the Orangutans as well: For the teams trying to rescue as many of them as possible it is a race for Orangutan lives. When I watched the Orangutan Diary on the telly I couldn't believe which length these people go to find and rescue these poor things. And if you then watch them thrive at Nyaru Menteng rehabilitation centre, Borneo, then one's heart just has to go out to them.

Imola just before the run
Ah, such a happy bunny!
I have been looking into new charities to support since a while now. Race for Life Cancer Research UK is a great cause, but it was so hard to get into people's pockets this year. Apparently all the charities are in a similar pickle and in hard financial times are even falling victim to charity mugging.
But it was not just that: Sponsors want to hear new stories, they got bored with me doing the same thing over and over again. They want to see progress in my performance. They want to get convinced and seduced so that they get this 'feel good factor'. And talking with Imola she had a similar experience.
Although it feels odd to leave Race for Life for a while I feel that under an efficiency point of view it has to be done. We at least have to try if the approach of keeping ourselves interesting for sponsors is working, true to my motto: If a thing is not working anymore, then there is no point in trying harder, one has to try something else! If changing the charity for a while should prove successful, one might even think about charity swapping: You do mine - I do your's.
So why Orangutans, then?
Mainly: Because I'm a big wimp and I always had a soft spot for great apes and Orangutans in particular, then I got hooked to the whole rainforest/palm oil issue recently which is causing all that mess, and BOS - Borneo Orangutan Survival - is the charity bringing it all together.
And that is exactly what I think makes BOS appealing to sponsors as well:
This week's picture on the IL front page shows little Pickle shortly after he was rescued, and have a look at the video after he had some TLC at Nyary Menteng. And now imagine that he needs another seven years until he will have become a young adult who still needs training to be released.
A lot of the ones released now are captured Orangutans, injured or starved and nursed back to life like Mama Abut who need to go back quickly after recovery because they are not used to cages and close contact to humans, and hence captivity is harder for them to endure than the ones who went to forest school.
So I am hoping that you like the charity that I have chosen as our international charity for this year. We now will have to do a bit of brainstorming of what kind of fund raisers we might want to organise - what means that we have to get together for a bit of mischief planning soon. Oh well, for now it's the summer break, but in August there will definitely some Ladies-Mischief-Time (LMT)
For now have a good rest of the week and a lovely weekend!
Love
Rika
xx


Back to Top
---


2nd July - Already?
Well, I at least found my celebrity car to be. Remember when I needed a new car and asked for advice. This beauty didn't come up.

Hubby is so cute, he brought me the brochure all the way from Germany - apparently an advert in a restaurant.

What kind of places did he choose for food intake?

I know I keep writing this, but I can't believe it's July already. When did that happen? I really have to get going if I want to achieve all that I have planned for this year. Soon it's summer holidays, that should help to give things a good push.

Next task is to finish the Race for Life season. Imola is taking part in the event on the 8th next week at Suffolk show ground. Please visit her fundraising page and sponsor her. The credit crunch has hit us as well and fundraising was incredibly hard this year. So every little helps and we very much appreciate it! The next update on the funds will be in two weeks time when we scraped all the bits and pieces together which will make the final result.

Another task I have taken upon me is to work on my celebrity status. Don't laugh... I got proof now! In order to be able to become a published writer one has to be a celebrity - mini celebrity is good enough, but one has to either do something weird to get into the public eye, or one has to have celebrity relations. In lack of the latter I will have to go for the 'weird' option, I'm afraid. The next weird thing in planning is a new photo shoot in three weeks time: Whooohooo, IL might have to live with a few smaller updates during the next month. I have to train, I have to look gorgeous, I have to find locations and then make the shoot - gosh, I am hoping he is an honourable gentleman - since I only know him via email... A blind photo date... Told you! Weird, weird, weird,... Another bit of madness I could add by wearing funny make-up. Should I try the Lady Gaga look?

Now back to a more serious matter - oh well, you might want to call me crazy to write about such a thing, but on researching the subject I found that there is a lot of serious medical information out there and tips on how to deal with this nuisance of womanhood, but the practicality of tips never get really questioned.
Cystitis to me is like an infamous family member who always manages to pop in at a party at the utmost unfortunate moment. I have a hunch that there are more of us out there who don't dare talking about it and hence don't get tips and support. So here is my account of the 'Sexist Bacteria'.
To a good week with health, love and a good dab of weirdness: That should do to be happy!
Love
Rika
xx


Back to Top
---

25th June - It seems to be summer... we all want to get slimmer!
I could use it as an excuse but the truth is: I had gotten rather fat over winter! This photo shoot I am preparing for now is just a lovely incentive helping to see the fun in losing fat. And yes, I am deliberately saying fat... one would lose weight by chopping off one's head as well - we don't want that, I assume.
Let's be truthful and call it the right name: We want to get rid of the wobbly bits - hence: FAT!
I had worked myself up a dress size and had become a bit slag. Having one cold after the other during winter didn't help and then we didn't really like the old gym anymore. So I became negligent with the training as well... It always happens so sneakily slowly. By the time I realised what was going on, I couldn't wear half the stuff in my wardrobe anymore. At first I thought it's just me, but where and whenever I talk to people we end up on this topic. So there you have one of my infamously long articles on How to shed fat.
Inevitably the next task for the photo shoot will have to be to learn how to pose - meaning showing off the muscles at their best. Gosh, I tried a few things and it is harder than learning how to belly dance.

Everything has to be controlled at the same time,while one part is moving to the next pose the rest has to stay still, and flexed and one has to breath normally and look pretty... Will have to see how I tackle this. So far I scrutinised 'the movie 'Pumping Iron' to find out how Arnold Schwarzenegger did it in his big days of Body-building.

There is amazingly little on the internet on how to learn this... well, I'll keep you posted.
And last but not least: I did it again! Remember my article about shoes, and why one needs more than one pair, and why I tend to buy the same ones in all colours? And remember that I wanted to have gladiator sandals since last year and didn't find any until eventually this spring I got the salmon ones?

Hubby went Birthday shopping with me and... oh, they could order the black ones in for me and - oh boy - they had a 'buy one get one half price' deal and could order the beige ones as well, and I have dresses to go with every single one of them ... and then I was in a mall, on b-day shopping trip without carrying a bag home because all I wanted was ordered, and they had the yellow ones in my size right there... so I got them all!

When I picked up the two pairs at our local Ipswich store the lady in the faith shop almost fell to my feet when I told her that I had the other two colours as well. Apparently salmon is sold out since quite a while - and I have them! I feel so special... It was a real Sarah Jessica Parker moment - and that in the middle of Ipswich. Who would have thought?

So I'm sorted with shoes until end of days - one would think and hubby probably hope - and now I still need a cream and a black handbag...

Oh MY!
For now cross fingers for all the lovely people who have events going on at the weekend. It's the Glastenbury weekend and that sort of attracts rain. I hope it won't spoil it for all the brave ones doing the Orwell Walk in Ipswich.
Good luck to you guys!
And for the rest of us, enjoy life wherever you are!
Love
Rika
xx


Back to Top
---

18th June - What's the deal with all those chicken thoughts?
It's not just me who is a bit bonkers, the rest of the world has gone a bit loony as well.

This sign we found at the station platform on our last trip to London. Good to know that there is at least one Saturday this year that doesn't have rail work going on. And according to Nury the 'new winning' is 'losing big time'.

Nevertheless, a lot of my thoughts seem to be circling around chicken these days. So let's get it out of the system and jot it all down. The one thing we haven't been chickening out from was the Race for Life, and I got hold of some more pictures of really wet chicks.

Oh well, the picture of the week doesn't have to do with chicken, but with horses. At least we stick with farm animals. But it doesn't end there: There are shrews using the toilet and I am back to chicken soup which inspired me to elaborate around the cycle of life and the question on how chickens fit in.

Don't be alarmed by my whim, though - it doesn't hurt, I actually am feeling really rather well. I even found a TED video where chickens play a vital role. So I am not entirely alone in my world of chickens.
Thus let us quickly close down before I dig out another article, picture or recipe on chickens. Enjoy a lovely evening and rest of the week.
Ta-ta for now, until next week!
Love
Rika


Back to Top
---

11th June - That was very wet, indeed!
Although the spirits were good at this year's Race for Life at Chantry Park the picture to the right says it all: It was wet! And there was no way we could consider a picnic.

Taking into account that the picnic was supposed to help us raise interest in next year's event, and given that some other factors are not helping either to promote Race for Like we need to re-think our charity strategy.

This concerns not just how we do charity work, but which ones we want to support as well. The approach could be to choose an international, a national and a local one and see which skill of the ladies is best suited for certain projects. Well that's what the mischief sessions are for. We need to get out and about more, mingle and discuss...!

One international charity could be the World Land Trust. One of the projects is to re-grow a rainforest.
Well, and to not have everything too serious I would like to show you a funny music video - 'Total Eclipse of the Heart' a bit differently.
I hope you forgive me that I am keeping it short, but I got to get to bed. Sometimes the day job gets in the way and tomorrow has to be a horribly early start. For the weekend we eventually have sunshine predicted and thus I am wishing you a good rest of the week and a glorious weekend.
Lots of Love
Rika


Back to Top
---

4th June - I can't believe it!
Can you?
I have no idea how it happened that half of the year 2009 is almost gone. It's only a whiff of a moment ago that I was looking for a New Years picture for this new page, and now it's old already, the roses are flowering like mad and we are going to do Race for Life next week. Eventually it will be over and I won't go on your nerves with it anymore. We are still a bit short of funds - well we still can collect until July when Imola is going to do her run.

Until then we might even get the one or the other member to join the team - again we are a bit short of those. Nevertheless, not more than 4 weeks and it's all over and we are going to prepare for summer holidays.

With the holidays all these bikini issues will be cropping up again. While sifting through interesting links and videos I stumbled over an old one that some of you might already have seen. However, I was fascinated by it, and I think it is worth showing the Dove advert for natural beauty again. Well, and although it is an advert for a beauty product - the videos are brilliantly made and we might want to just enjoy more and worry less.

And because I am interested in taking photos and having photos taken, the picture of the week is about body image as well. It appears that this is something where it is difficult to find a simple answer.
Talking of holidays: Should you intend to go to London you might want to visit the Natural History Museum. We recently did a day trip and it was just a wonderful day.
And now it got late again. This at least will be one benefit of RfL being over: I hopefully will have more time to focus on writing again and producing some movies.
For now have a great rest of the week, please cross fingers for good weather and come join us on Sunday, for the party at the park!


Back to Top
---

28th May - Campaigning, Cats and Cough-Syrup
Since I am fiddling around with Twitter I realise how much campaigning is going on out there and how effective it is. In the old days one had to go out and burn a flag, these days one only has to send a post of no more than 140 letters. Well, one has to use these tools rather strategically and with focus, but the impact is amazing.

One campaign I like so much that it will be featured on IL this week is the 'Just One Book' appeal from Salt Publishing. Salt is a prize winning independent publisher for poetry and short stories located in Cambridge. They are hit rather hard by the credit crunch and they have sent out the message via their social internetworking contacts to please buy one book each to bring Salt back into black figures - Save Salt one book at a time...

A lot of internet magazines picked up on it, and so do we... firstly, because I like Salt and secondly and most importantly, because Jen, who is an Incredible Lady from Cambridge and last years Race for Life running buddy owns Salt together with her husband. Hence this weeks IL front page is shaped by Salt-ish things.

Of course I had to add my two pence and leave my trail on the internet, publishing a pamphlet on Why poetry matters on 'Independent Minds', and on hoping that you agree I am appealing now for you to check out the Salt website and to consider buying a book!

Another campaign is the website for Aung San Suu Kyi, the imprisoned Burmese democratic leader who is now facing trial and further imprisonment for several years. It will be her 64th birthday on June 19th and the site collects birthday wishes for her to show the worldwide support and to demand for her freedom.
And because all good things come in three, there is a bit of campaigning for our rural businesses as well.

Yesterday, another monthly WiRE meeting of the Burry St Edmunds satellite took place and I met a lot of lovely and interesting ladies, one of whom asked me to link her business. Usually I wouldn't do this straight away, I however like the idea of toxin free products.

So here is Looksamazing.net, an online shop for all sorts of beauty, soul and household things. I haven't tested them yet, but if you order something it would be great to get your feedback.
While I did all that campaigning I had a bit of trouble keeping my dear cats at check. I'm telling you: If you have cats you don't need kids... and with kids you at least have the prospect of them growing up and becoming understanding. Well, you might want to disagree... feel free to do so - send me an email.

Last week I promised to write a bit more about the Natural History Museum London. Please forgive me for delaying this to next week. Since everybody around me fell into another cold I decided to rather get the cough-syrup recipe up and running.

Unfortunately the weather has become rather cold again here in East Anglia. The garden and all the baby birds don't seem to mind, though. Everything is lush and the little starlings are so loud and boisterous that even the three silly cats are impressed and leaving them alone.

And so is another month passed by: on Friday is the May Afternoon Tea already and in another one and a half weeks we have the Race for Life at Chantry Park - I can't believe it, I only managed to run the distance once with a lot of huffing and puffing. I was so determined to do better this year... oh well, it's about the fun, isn't it? And I am already looking forward to the picnic. So should you be around on Sunday 7th June: It would be great to meet you there! Look out for the Incredible Ladies banner and grab a bite.
Now I am wishing you a wonderful rest of the week and a glorious sunny weekend. Have a lot of fun and hopefully see you soon!
Love
Rika


Back to Top
---

21st May - Still the sugar thing...
This 'no sugar' or at least 'reduced sugar' thing is still keeping my mind busy. We are in week four now and the effect is really starting to show. Firstly one can't avoid losing some fat so that waist bands are not nipping in as much anymore, and I feel more energetic even on the 'not so good days'.

Dear Imola is confirming the same effect on her and so I wrote the rules down for you to join the experiment in case you are feeling that sugar has become a problem in your diet.

Since we are off work this week, hubby and I went to London Natural History Museum. I will tell you a bit more about it next time. This week I only would like to show you what I didn't eat. In the background there are more piles of muffins and bakewell slices and there is all sorts of cake and flapjacky things.

So if you are in London looking for a great snack place to eat: The Natural History Museum is your place to go.

| | | |
| --- | --- | --- |
| The have brilliant baguettes, sandwiches and salads as well - which I did eat - and the cappuccino is really nice there. Well, and the rest of the museum is definitely worth a visit as well... e.g. right now they have a wonderful butterfly exhibition, but more next week. | | |
Last weekd I have been a tiny bit mean, though. On one end I am campaigning agaist sugar and on the other we had a cake party at work where we sold home baked cakes for our Race for Life charity. We made a whopping £61.95 from that, so it was very much appreciated, and some people asked for it to be repeated. Well, what wouldn't one do for charity... Given the success we have come quite a bit closer to our fund raising target, but still way to go to actually reach it.
So please: Go to our team page and sponsor the ladies!
Next Monday it's the bank holiday, and I wish you all a great time and a happy break with loads of sunshine.
Love
Rika

Back to Top
---

After the guests had left it went into the bin. Well, should've gone into green waste but I was too occupied to think clearly...

Oh, I am inspired in many ways these days. Firstly, Imola and I are in our third week of 'getting off the drug' meaning to skip all the sweets, biscuits, cakes, chocolates - everything that has pure sugar in it. Yogurt is ok, because it's not too sweet and it has more healthy than unhealthy stuff in it. I am mixing my Quark - which got approval of all the others at the BBQ last weekend, and muesli bars are allowed in moderation as well.

If something sugary then best with honey or fruit sugar, and in order to make something that is generally healthy palatable. Sweets are the only things targeted, the rest of the food we don't bother about. We tackle one thing at a time.

And now another friend hopped on board willing to give the 'go cold sweets turkey' a try. It may sound odd, but despite the fact that Imola ate more of the regular stuff during the first week, she nevertheless felt better and the second week was not difficult at all. We then both independently discovered that we voluntarily had cut back on calories during the second week, only realising it on looking back.

So now we are hoping that the third person in our little club will be able to confirm our theory that sugar is a drug that needs to be avoided altogether, and that then the rest falls into place more easily.
Then I have been drawing inspiration from my dear husband who yesterday gave his inaugural lecture at Bournemouth Uni where he is a visiting prof. When he took his first steps at a university as a student, it was his goal to become a professor. And although he is holding this post since last August: This first lecture is the final step on a long walk. Persistence pays off!

And thirdly, I got inspired by a new friend. When we had our BBQ last weekend, a friend came to visit with his new partner and it turns out that she is employed at Cancer Research UK. To know somebody 'real' for whom we are basically doing this so that she can go on doing the work that she does for the good of cancer patients was a real boost for me.

And although recruitment for the team is slow, I am still hoping for the best to beat last years numbers. We have one new member in the team now; well, be basically we have 1 1/2 new members, since Sandra will be walking with her 15 month old daughter Elena. So please have a look at the team page and while you are there, you might want to consider doing some sponsorship via the fund-raising URLs provided there.

There is one little drawback though from being inspired: One all of a sudden has thousands of thoughts in the head and one needs to focus and to work through a lot of stuff.

Our version of the
Princess and the Pea
And then I realised that the wit had moved on to other places than my brain. On wondering where it had gone I came up with one of my infamous columns. You might agree that the wish for being funny will put me a bit into a pickle. However, whatever the outcome of all these activities might be: It seems that there will always be something to laugh about, and maybe a bit of floating the mind would help as well. Somebody on Twitter posted a link to this wonderful movie.
I am going to call it a day for now. I am expecting hubby home soon from his trip to Bournemouth and I'm sure he has a thing or two he would like to tell me.
Have a great week and a wonderful weekend,
until next week with updates on the 'meet the cake fund raiser' and whatever else I might come up with.
Love
Rika


Back to Top
---

7th May - Doing lots of things
Again it is going to be a long night for me to get the upload ready, and again that is so because I was bosselling around on the layout of IL and experimenting a bit. An top of it all I clicked myself through a lot of internet and couldn't help but give my two cents (pennies) to some comment boxes like the ones at Nury's column. This all is fun on one hand and on the other it helps me to focus and to find things to try out before I implement them in the 'New-IL'.

And of course I was tweeting a lot. Inspired by some tweet exchanges with Imola I eventually came up with a column again. All about ... USG... you will have to read to find out what I am talking about. Well the photo of my previous cat Bobby (RIP) sort of indicates that gorgeousness has to do with comfort...
Some time ago I watched the movie from Al Gore, An Inconvenient Truth and I was hooked and wanted to know more. When I got an email containing the link about 'Growing your own fresh air' which I posted here earlier, I came across TED a team organising conferences and then posting the talks in full length and brilliant quality. And there I found another presentation from Al Gore regarding Climate Crisis, picking up on some developments occurring after the movie came out.
Then of course re-cap of the WiRE meeting. I met so many interesting women, exchanged business cards and whenever I talked to somebody new I learned to make my pitch crisper about what IL actually is. When I got out of the meeting I was somewhat overwhelmed and everything felt a bit surreal; networking really is hard work. One outcome however will result in some IL mischievous action in summer or early autumn. I met a blue badge tourist guide from Bury St Edmunds. She gave the speech of the day and it was very interesting. We surely should go and have a trip to Bury with guided tour, a nice meal and some shopping.
The rest of the time then went into the Race for Life preparations. Writing begging emails, organising the cake sale which will take on 15th May at my work place, and staying in touch with the event organisers of the Ipswich North run to get the conditions defined under which we can have our Marquees and a proper picnic set up without getting into their way too much.
So we are on track now. What is still missing are T-shirts and a team - only Imola and me so far. A new lady from work promised to join and to bring her little daughter (15 month) along, yay! To top last year however, we need at least ten. So wherever you are in England: if you are resident please, join a run, send me the link of the fund-raising page, if you are setting one up, a mugshot, and let me know where you are (to rika@incredible-ladies.com) and you are in!
For now I'm going to call it a day. Have a great week and a lovely weekend.
Hoping to hear from you soon,
Love
Rika


Back to Top
---

30th April - This is what I call a spring
Oh the lovely view from my study window. The Orange Blossom will flower soon and smell incredibly, the Ceanotus is getting all blue. This is the blue and white season in our area. The bluest shrubs and flowers are about to flower right now, and a little bit later the Hawthorns will colour the background white.

Unfortunately the little bench was used by birds all winter and it will be a hell of a task this weekend to get it suitable for humans again.

So, what happened this week? A lot of twittering, tweeting almost a twitteritis, but it keeps Imola and me on track to stay clear off the sweets - just saw that she made day three as well!

Congrats to us!!!

Then I have been visiting the WiRE monthly meeting for the first time and it was brilliant - a bit more about that next time. What I can tell you though, is that I have a much clearer idea now about the future of IL and I am hoping for the one or the other feedback from you.
Oh yes and we had the Afternoon Tea and this time I have a few pictures and new faces for you!
Given the challenge of not to have sweets for a couple of weeks - gosh, Easter was really bad - I am trying to cheat my brain with a protein bomb. Has a bit of sugar but at least the rest is horribly healthy. Can't compare to chocolate, though.
Well, and inspired by my frequent cold attacks during winter I came across this video about talking bacteria. Little buggers, they are so smart.
Now I'm going to call it a day, and looking forward to a wonderful long weekend. Have to eventually start running. And hey, join the team! It'll be fun. Be prepared to receive my email!
Have a lovely weekend, too and hope to see you soon,
Love
Rika


Back to Top
---

23rd April - What about a new IL site?
Oh my, I actually started it! The other day I met Alex, a lady who found me on Twitter and then we realised that we are living rather close and should meet. She is so inspiring that I went straight home to sit down and work on a layout while Detlef is exploring all the software options. But first things first!
The location where we met: Suffolk Food Hall. I had never heard of it, but the place is just brilliant. Just off the A1214 - Southern bypass of Ipswich. It is the perfect place to meet when arriving from areas like Colchester or Bury St Edmunds. Always great to avoid the traffic in town. The coffee place is nice and spacious without feeling like sitting in a goldfish bowl. The cappuccino is very decent and Alex' hot chocolate with everything... Oh la la...
The rest is farm and gift shop, and garden centre, and it is really big, professional and well presented. Freshest fish and meat, bakery, pastry, sweets, fruit and veg,... Definitely worthwhile a visit. I really should get used to carrying a camera. There were sheep in a paddock - ahh,... I love sheep!
So now! I told you before that IL needs a re-vamp. The old one is too cluttered and ideling along without a reall focus. However, we don't want to lose the homey feel, or better the 'home made' feel. All these blogs out there look like one another. IL has to stay our distinguishable playground.

This is the idea for the new IL front page!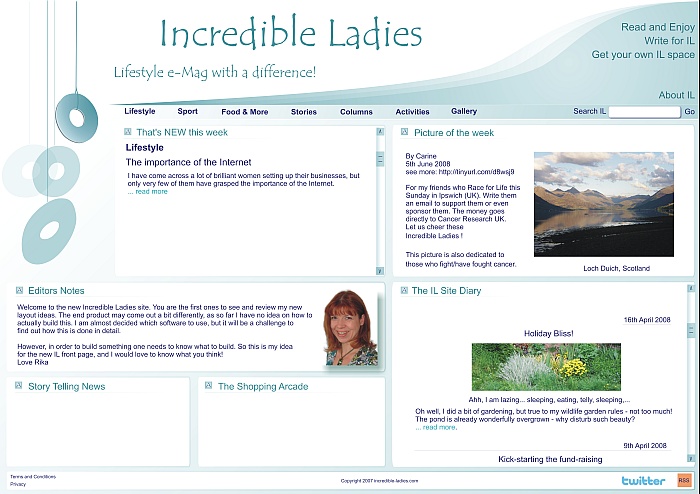 From all the feedback I got, three things where striking: Firstly, nobody really knew what 'Who's pulling your strings?' means and when I explained it turned out: This is too much thinking straight away, about all the misery we might be in. We need a more positive approach. Thus we are losing the 'string-thought'; however, I just can't brace myself to lose the strings in the header logo.
I know that only a few of you have an idea what these weird things in the top left corner are, and what they mean - but I do! They are the roots of IL. Whenever I am down and coming close to packing it all up, these rings remind me that all I need to do is to gain control over what I really want to do. That I have to sit down and review the past and make plans for the future. These are the strings I am pulling. So please bear with me and leave them where they are.
Secondly, the old site appeared pink to some. Although there is only a small amount of pink - in context of a 'ladies' site this turns out to be too strong. So apart from our Race for Life charity pages, pink will be avoided at all cost.
Thirdly, nobody knows what the purpose of IL is. There is info - yes. There is a bit of fun - yes. But ... So now the header says what is in the tin, and the front page will reflect this as well. Incredible Ladies has to become a proper electronic magazine ... with a difference. The difference being in what we had planned all along: to filling it with articles out of the community and not by people claiming to have eaten wisdom with a ladle - although I sometimes sound a little bit like that... Hence everybody can submit to IL, and we will make it easy to do so.
And we will have more of these little three-pagers like La Ola, nyx and Holly Blue, Off the Wall and Aloe Vera. This will enable more women who only just started their business and who haven't yet got round to dealing with web providers, to get a small web presence. This will at least at the beginning be free, but later on might open up an opportunity for IL to gain the money needed to stay sustainable in the long run. Well, I can make one promise now: The ones we have now will stay for free as long as they like, they are out good luck charms similar to the strings and who am I to tempt luck?
To make IL more lively and appealing the menu will be organised at the top and have drop down sub-menus, there will be a search function, fancy stuff like RSS feeds, and whatever else geeks might come up with in the future.
Just a bit of decoration
from my front garden

We will have a picture of the week, which I would love to receive out of the community, we still will have the Site Diary, but Carine will be pleased to hear that it will be run as a blog: So you can send your comments straight away. There won't be forums but the one or the other part of the site might be run as a blog as well.

Since we don't have blogs yet I will have to still rely on your feedback via email on rika@incredible-ladies.com.

Oh my goodness! That sounds all so confident, doesn't it? Brrrrr, now there is the task of actually building it on a system I still don't have decided upon and that I hence don't know, and to transfer about 360 pages and 1660 pictures.
Well, will keep you posted and most certainly will ask for more feedback as I go along. It is supposed to be YOUR site after all! I'd love to have that done by Chrismas this year - We'll see!
Now please enjoy Nury's column on 'Shoping and Hormones'. He never will truely understand ... he should read IL more often... and on a different note: When I did the move of our office in December I told you that we have loads of office plants, which we accrued over time mainly from my overgrowing conservatory. My office guys first thought I'm a bit bonkers but learned to appreciate them very much. Now a colleague sent me a video confirming the benefits of office plants... would have charged my company for the plants if I would have known earlier...
And I actually managed to get finished the last part of our mini-series about women and business. This one is about 'Internet and Branding'.
So, that was a long update and I have to go now. Today I had a long day and tomorrow I have to get up early. I hope you like my artwork and the flowers and I may be able to give you good news about Race for Life next time.
Have a great week with loads of sunshine and happiness!
Love
Rika


Back to Top
---

16th April - Holiday Bliss!

Ahh, I am lazing... sleeping, eating, telly, sleeping,...
Oh well, I did a bit of gardening, but true to my wildlife garden rules - not too much!
The pond is already wonderfully overgrown - why disturb such beauty?
I still believe that in a previous life I must have been a cat. Warming up the old bones during a nap in a sunny spot - that could be me right now. Vinny must be something like 15 years old now and the previously entirely black cat has grey sprinkles all over.

However, I was back in the gym and it was good, so I am looking forward to running mit Imola again to prepare a bit for Race for Life. We don't have an update this week since everybody is away for the term break. I however am hoping that by next week I may have convinced a few of you to join the team.
Thus recovered, I felt inspiration come floating back to my dull brain and spent quite a bit of time on the computer to configure Twitter, to see if this thingy can be used more efficiently for proper networking rather then just fiddling around. Social networking is fun, but it would be nice to find more contacts like Alex who brought me to the WiRE network. Well, and one still can grab the one or the other cuppa anyway!

Now it's even too hot
These networking activities have been nicely coinciding with the third part of the 'One Event Four Thoughts' series in which I have been catching up on this matter as well.

These little faces are just
too cute. They have peckish
admirers, though!

Orchids never fail to amaze me!
Now I am going to enjoy the rest of my holidays, on Monday it is back to the office and Friday in a weeks time - that is the 26th - I am looking forward to seeing you at the Afternoon Tea.
Have a lovely rest of the week, too; enjoy the sunshine wherever you find it and meet a lot of nice people!
Love
Rika


Back to Top
---

9th April - Kick-starting the fund-raising
Yay, this weekend is Easter and the week after I'm off work. Bliss! Eventually there will be some time to kick-start our Race for Life fund-raising and to get in touch with a few ladies to grow our team. So far we are just two, still. So please, please: Join the team!
At work

we have

two posters now

to spice up

the penny

and

the small change

collection.

The small label
I had before already
provided us with

£118

So I'm hoping
to create an
even bigger impact
with those
A3 posters.
So if you have ideas what else we could do: please let me know (rika@incredible-ladies.com) about it.
The rest of this week was not very eventful. I still took it easy to get rid of the silly cold that just wouldn't go away. Inspired by the TV series 'Grow your Own Drugs' on home made remedies, from which I got the recipe for my beloved chicken soup I created my own cough syrup from honey and onions. The first batch was - well, ... healthy - the second batch was a bit better palatable. This stuff is so efficient that I definitely will work on a third batch and I will document it for IL. I am taking it for 5 days now and I can definitely feel a change.
Thus relieved I was a lot more inspired than during the past weeks, and so we have the second part of the ''One Event Four Thoughts' mini series on Brilliant Business Women' plus a column contemplating on Lent, this 40 day period before Easter which we are living through at the moment.
For now I'm wishing you a wonderful Easter break with loads of sunshine!
See you all refreshed next week,
Love
Rika


Back to Top
---

2nd April - Spring, eventually!


It can't be denied: Spring has arrived! And hence a picture of the pond again. Well, this is more to remind you of the size rather than to tune you in for spring, because we had visitors again - loads of them!

The resident goldfish almost made it all through the winter and look even bigger now than last year, and then the frogs came.
I already told you about them when I had the pond cleaning session and the 10 I could capture on last weeks photo somehow increased to about 20. I don't have the faintest idea from where they are coming.
They were highly productive the past week and not only covered the corners of the pond where the water is shallow, but dotted big clusters onto the floating leaves of the grass thingy in the middle.

The poor things won't stand a chance against the greedy fish. They are not keen on the glibbery bits, but be prepared for a frenzy when the tadpoles hatch!

As if the pond wasn't full enough yet the ducks moved back in three days ago. I already was at work when Detlef discovered them and had the presence of mind to take a photo.

I just love these guys, although they cause quite some havoc in the garden. Well and the next day I had a bit of a surprise. I was up early to put out the food in time before their arrival and already was a bit disappointed that they were late, when...
... I saw 4 = FOUR of them. The couple had two young males in tow. They were so excited about the food and made a noise that one could understand ones own thoughts anymore. I apologise for the bad quality of the photo, but I just didn't dare opening the window, it only turned out later that they are actually rather cool as long as one is moving slowly.

Well, and for the rest of it I am networking a lot. I joined the WIRE network which is a national network for women in rural enterprises. Although I don't have a business I feel that there is need to start thinking in business terms for IL to make it thrive and sustainable. In the IL Future Plans I already depicted that we will have to find a way to grow one part of IL into a business in order to keep the website non-commercial and to make the charity work easier; the WIRE is a brilliant start for brainstorming and getting information on how to go about it.

Another lovely local social network is Quills at Seckford Hall. I visited one of their charity events which was wrapped around a fashion show.
Taking in this experience and bringing it together with the shopping party at my friends house and the coinciding discovery of WIRE I was inspired to write a series of articles the first of which is published today: The Typecast Trap.
All there is left is to ask you to think about joining our Race for Life team. Quite a few ladies voiced interest but couldn't get round to enrolling yet. So please spend a little thought and let me know about the outcome.
Enjoy the spring and the prospect of the Easter week coming up!
Love
Rika


Back to Top
---

Firstly, a Happy New Year to all the Iranian ladies and friends!

And to all of you complaining about the weather have a look at last year's diary - back then we had been sitting in deep snow, so actually no real need to complain. Don't like the wind, though.
These 12cm (almost 5'') heels are astonishingly comfy.

Secondly, I had told you about my most recent fashion purchases earlier and so it came as a nice coincidence that we were invited to a wedding on Saturday. Only hiccup: accessories still missing!

So it was another lovely coincidence that it was Detlef's birthday last week resulting in a shopping trip to Lakeside on Friday. I know it's a bit odd that 'his' birthday formed the background of 'my' shopping spree, but after almost 25 years of marriage he has accepted this as 'women's prerogative'.

I had made my internet research and thus - after a bit of compromising on the colour front - there was a good turn out of shoes and handbag, and dear hubby at least got the biggest chocolate Easter egg we could find.

This is seriously dark chocolate!

With the Friday pleasantly gone, the Saturday was the day of grooming a Rika into shape. Winter feet and garden hand are not scrubbed down easily into something remotely ladylike.

Luckily I now have my new hair curly thingy which turns out to be a brilliant little device, and my dear hairdresser Nadia daringly cut longer layers into the hair which I think really suits me well.

So by 6PM I was ready to party as was hubby in a neat tux - unfortunately I don't have a picture of him, but believe me: 'A feast for the eyes'. We had a great time with our friends who by the way are the couple featured on last year's Race for Life, Gery and Dominique who at the time was heavily pregnant.

So now they are married: All the best to them!





Seriously good chocolate from:

Obviously the Sunday started slow, and then the sun came out to tempt me into the garden - and rightly so , since the frogs had stirred the pond in a way that the pump was entirely clogged. They didn't really mind me messing around with their territory and were happily croaking after the few femails available. To the right my annual 'how many frogs can you see' picture (click to see a bigger one).

While I tried to get the smelly pond mud of me and unsuccessfully scrubbed to restore the grooming status from the day before, Detlef did the weekly shopping which was neglected due to all the other stuff having priority the days before.
Oh he is an experimental shopper and has such a good memory: He bought everything for a chicken soup which we had seen the making of at the Telly. Apparently very healthy! Thus the rest of the Sunday was allocated to chicken soup, which turned out so good that we decided that this has to become a regular dish now. One little tip, though: Avoid enclosed premises with people you want to impress, or the gym for many many hours after dinner. I am planning to show how to do it in a movie some time soon, but for now I only can point you to the recipe - I am leaving out the Echinacea, though. The guy on the telly didn't use it either. We had it with a bit of separately cooked rice: Yummy!
Then the Monday came and the day job took over. I got an extra task of building a new website, what is fun to do but nevertheless takes off the focus off IL a bit. I at least managed to have a go on the indoor rower; I'm starting to get really good on this thing now, hoping that it pays off for the Race for Life this year.
So for Tuesday and Wednesday morning the new website was all I did and now after knocking up this weeks diary for IL my eyes feel a bit square shaped. I guess they will show the reflection of the screen until end of days. Hence I will cut it short now, hoping that next week I have a few news on Race for Life, and some stuff of more general interest.
Have a lovely week and hopefully a lot of sunshine. Special greetings to all married people! May you all happily reach your golden anniversary!
Oh well, and I almost forgot: hoping to see you on Friday for the Afternoon Tea!
See you then!
Love
Rika


Back to Top
---

19th March - About complaining


I don't know what that is, but looking back, through the diaries it seems as if November and February/March are the month of moaning and complaining. I was so grumpy again last week for no good reason. And then I came across two things.

Firstly, I was pointed to 'Complaint Choirs' and the sudden company of other complainers made me feel so much better. Thus I thought I'd share.

And secondly, I remembered an article I once wrote about 'Cheating the Sandman'. You know what: It's true. I had forgotten about it and during the last week I haven't been sleeping enough and always felt peckish. I had some chocolates again, and reverted to muesli bars as a good excuse for sweet intake - not really good either. In the mornings I used to be instantly hungry and if somebody would have dared denying me food I would have put up a fight.
| | | | | |
| --- | --- | --- | --- | --- |
| Yesterday my batteries were definitely down. I managed to join Imola in a rowing session, but skipped the weights, had a first breakfast and a nap, had a second breakfast and a nap, had dinner, went to bed at 11PM and slept until 8AM this morning. And - Hurray! I wasn't hungry and not grumpy at all. | | | | It's 11:45 on Sunday and I already have cleaned half my conservatory, watered the plants and repotted some, have written a bit for the website and had two loads of washing done - without any breakfast and not even hungry. Detlef just called from golf that he will be home in 20 mins. So I am off now to prepare a brunch. |
All I can tell you:
Skip the telly and rather have your beauty sleep!
It's not important what these soap people are doing with their fictitious lives.
It's important what you do with yours!
Love
Rika


Back to Top
---

You may know by now that I have the Twitter-madness! Carine my dear friend was nagging me for ages to join, and now that I am in I am addicted - clearly recognisable by my repeated referring to it. However, it turns out to be a valuable source of information. Particularly weird and mad stuff, like this new roller coaster ride called 'Saw the Ride' which supposedly is the ultimate one. Not that anyone ever would get me on there, I am already fainting when on a toddler ride. But interesting nevertheless.
The only thing that annoys me is: I only have 17 followers; I had 18 yesterday - that is rather pathetic. Stephen Fry has 289,393 as I type, with numbers increasing every minute. I'd wish he'd borrowed some out to losers like me. Not that I dare compare my skill of entertaining with his. But surely: 17! C'mon! And some of those are only people who spam their adverts.
So I decided to advertise my Twitter and what better medium is there than YouTube? My 'Advanced Tummy Exercises' video has been watched 22,479 times and I have 62 subscribers. Let's see if my lack of followers lies in the fact that they just didn't find me yet, or that they find me boring.
Well, and as I was on it with the filming and all, I thought I'd confess my second madness of this week as well. I thought I had come a bit off the fashion trip - you know what I mean: Credit crunch, have enough in my wardrobe, not going out a lot anyway...
Oh, forget it! Who am I kidding?

A friend of mine is about to open her own boutique with imports from Italy.

She has brilliant connections in Rome, so she brought a lot of clothes and accessories from her last trip, transformed one of her spare rooms into a little cosy shop, another one into a changing room and invited her friends to 'give her feedback' and probably buy the one or the other bit. One needs to have some experience to write a business case after all, so we were all too willing to help out!

Since these ladies are all very well groomed, I spent several hours in the bathroom to turn scruffy Rika into a make-up, big hairdo Rika. Thus catapulted into the right mood and only just grabbing the checkbook as I dashed out of the door, I repeated my mantra:

Only something small!
You don't NEED anything.
Lovely house, lovely company, lovely nibbles: It all started very harmlessly with a scarf. One needs to have a bit of colour after a long drab winter, doesn't one? Well, and then I ended up with two more dresses and a bolero jacket.
They are comfortable, and I don't have anything similar, and they fitted as if tailored for me, and they are Italian after all. So one of them got allocated as my birthday gift (in four month time), and the other one as my silver anniversary gift (in 5 month time).
I only have one problem now: I need shoes and handbags to go with them and I am running out of gift options. On top of it all she is planning her next trip in May. Will keep you posted!
BTW: One of the reasons for the need of the 'Rika deep-clean, make-over, bathroom session' were my recent gardening efforts. Especially the pond cleaning leaves marks on the hands which don't come off easily. Well, and I'm a bit of a piglet anyway - I don't like gloves and I enjoy to feel the soil.
So I have two hearts beating in my chest - one is for the chic, fashion conscious, well groomed lady, and the other one is for the scruffy, muscle laden tomboy.
That sometimes is confusing; however, that may just be the essence of the fun that life can be. Let's just enjoy the spring that eventually has sprung and go a bit bonkers! Perhaps by joining the Incredible Ladies Race for Life team? Or by sponsoring? Or collecting some pennies for us? Or you may come up with another idea - however silly - let's just go for it!
Love
Rika


Back to Top
---

5th March - Tying up loose ends

I just looked out of the window to see the houses on the other side of the little park glowing in a beautiful sunset - Oh, how I love my new study!

Now, only a couple of minutes later it's over and I would have missed it if I were still facing some wall. So the new IL-HQ definitely is a success.
There are news on last year's Race for Life. My dear friend Iwona came over for the afternoon tea and told me that our 2008 Race for Life team had an article in BT Today. I had send it to the reporter after our race, but didn't realise that it got published, although a bit shortened. And I didn't know that it would be visible outside BT. So I am utterly delighted and encouraged.
I haven't come far yet with our team outfit, but have a few ideas; we already have more than a hundred pounds from collecting small change, and I am working on plans for the 'IL-Picnic in the Park' after the run. Any ideas welcome (mail me on:rika@incredible-ladies.com).

Unfortunately there is no Bobby Moore run this year - it's some place else. So our other halfs are off the hook and free to give us their full support and sponsorship efforts!

Oh well, and you my dear friends brace yourselves for my emails nagging to join the team. Imola will most likely do the other run on Wednesday 8th July, 19:30, Trinity Park (Suffolk Show Ground). So we might be on our way with two IL-teams in Ipswich this year.

You might be wondering about this weird contraption in the picture to the left.

This is my brand new wonderful indoor rowing machine I told you about - which we haven't used yet, since hubby and I both fell sick right after we got it. No, no connection between the two events - just tough luck. My rear is twitching to get on there, but silly cold is so far preventing me from doing so.

You might be wondering about the weird fluffy contraption in the picture on the right as well.

Bimmel our burglar/food-thief turned guest cat, moved out eventually. Apparently his people insisted.
We found a leaflet in the letter box. His name is Jerry and he lives with 5 other cats. I have a hunch that he lives with the parents of a student who now came home during term break and missed the cat, distributing leaflets to make people aware. Well and now that he seems to be spoilt at home again he doesn't feel the urge to break into other people's houses. I had seen a come and go rhythm before - so we will have to wait and see if he is gone for good or if he will be back after a few weeks time.
What else is old and I haven't told you about yet?
We have mice. The one that took residence in the attic and loves to take a stroll inside the walls at night, is still happily strolling away since I didn't get round to buying a trap. I nevertheless hope to show you a picture of the little critter soon - no, not dead! That's the reason for not having taken action, yet. I need to find a trap which will catch it well and alive.

The other mouse is the USB cutie for my netbook. And no, I don't have two of them. It changes colour, and it's the IL-RfL colour scheme. How tacky is that?

I just had to have it!

And last but not least I had a blast from the past when confronted with the question why I always get particularly hungry after swimming. Somebody might have the answer now.
Do we by the way have some witches reading this? Could you please perform some anti-frost/pro-sunshine dance or ritual? Gosh, I'm so fed up with defrosting the car and wearing jumpers. I would appreciate a week or so of proper high pressure influence to eventually recover from sniffles and old humming bones.
For the rest of it: Stay healthy, have fun, beware of mice and thieving cats, and see you next week!
Love
Rika

Back to Top
---

26th February - Men, women, beauty, shopping - The Usual
Oh My, I think I may have stepped on some male toes with my last column on 'How to Train a Husband'. See, I'm getting the hang of all the media and advertising stuff - every publicity is good publicity. Writing an apology, gives me a second opportunity to publish it, and all of you who missed it the first time round might read it now...
So, I do apologise to all male people who feel manipulated by the wicked way my brain works, makes me just wonder how they recognised themselves in my writing if it were all so untrue... Men are enigmatic creatures...
But just to clarify a bit: Men and women see and approach things differently, I guess we can agree on that, and it's fair enough. When living in close proximity - as couples usually do, and with a bit of luck they do so for a very long time - these differences are bound to create some tension once in a while, we are only human after all.
Now, I think my version of dealing with those matters is much smarter and more fun than the usual nagging housewife behaviour which - quite rightly - we are so often blamed for. So my dear male friends, just enjoy being manipulated by your better half. It doesn't hurt, it's meant well, and it DOES do you good!
And talking of it: I am looking forward now to our new Concept2 Indoor rower. Rowing is one of the things I discovered rather painfully, in which hubby joined and where we now are in a friendly competition. Given that he is quite a bit taller than I am, and has a similar built to mine I think I'm still ahead of the game - sort of, ish. However, we both like rowing so much that we felt it's an investment worthwhile. Will keep you posted on how that works out. And maybe it will be my new favourite Internet Gadget Twitter via which you will hear about it first
---
Yay, the February is over and we will have spring soon. I insist! Don't forget that we are having the IL Afternoon Tea this Friday.

Oh this biscuit is just looking at me and is very flirtatious. I think I need proper dinner soon or disaster is looming. So let's move on swiftly to...

... Nury! He picked up on some interesting/funny thoughts about relationship issues as well, and since I couldn't decide between the true Valentines story and a sexist rant, I'm linking them both.
In regard to shopping I eventually I managed to get my Aloe Vera story done. So we have my account on how I think it will make me help become gorgeous at some point in the future - and if you think that this is not all rubbish what I am talking about and consider getting you some of that stuff yourself: Here you can order! But please be aware that prices are in Euro.
... and then there is a good opportunity for 'comfort shopping' at Holly Blue and Nyx! They are having their first anniversary already and this Saturday, 28th February, from 9:30AM to 5PM they are having a bit of a party going on. So we may meet there!
For the next few weeks I have so many things on my mind: Race for Life, we need to recruit the team, start collecting pennies, create posters and design out outfits, I still have to tell you about the Lanzarote trip - could be a contender for your next holiday, who knows? And I will go on your nerves about the rower which is due to arrive on Friday.
So yes, please stay tuned in and if you have any ideas about anything really... PLEASE: Let me know!
Love
Rika

Back to Top
---

19th February - Again! What is this weather doing?

So here is why we are all black this week: IL is joining the Internet Blackout N.Z. I'm not good in explaining these things, best check out the website for how that would all be phrased correctly. However, from what I understand there is a new law in New Zealand according to which everybody can claim without having proof that a website is violating copyright laws and this site will be shut down. If later on it would turn out that this was not true then no compensation can be claimed. This opens all doors to witch-hunts and could be used as an easy tool to throw competitors out of business. Basically it endangers the freedom of the whole internet.

Imagine that just by claiming that the picture below is not genuinely mine (which it is, since I shot it myself yesterday), but just by claiming without having any proof, somebody who doesn't like me, doesn't like IL or thinks we are a too big competition for their own site, could shut it down, and the provider would have to comply.

So thank God we don't have a law like this here, but there shouldn't be such sort of law anywhere in the world. So check out the exact details of what is going on and help supporting the protest.

---

Look at these lazy characters! With those two around I am supposed to be steaming ahead full throttle into the end of financial year for the day job, buzzing with ideas for Race for Life, and training joyfully to be get rid of all the Christmas and holiday pounds that somehow sneaked their way into my pants.
Those were actually taken at the same time

Meanwhile the weather got warmer but is drab like oatmeal. Talking of oatmeal, even Tescos is unsupportive and discontinued our favourite musli bars. The only sweet thing that was allowed to be enjoyed because it made up a proper meal and had good stuff in it.

My only real accomplishment this week - Two hours of pruning trees on Sunday - is turning from a good thing into a nuisance. I can't even show off with the amount of work because there is so much still to be done that one hardly sees a difference.
Bought for Vinny, the blue doughnut cat bed is definitely too small for blobby Bimmel
---
Well, one does when looking at the ground: Half the garden is full of huge spiky branches and I have no idea yet how to get rid of them. At least the garden birds love the new playground.
The other day, Mon from the 'Real Feats of Strength' website asked me for a story describing a situation where I was a bit too strong. Well, he wanted something funny, ...what I have is not even a story: Decided for a big branch about 5m up in the tree, the cutter on full extension and then it got stuck - branch too big and too old wood. After a bit of muscle flexing and huffing and puffing it came off clean, and so did the plastic handle of my cutter. No quality products these days anymore...
At least Nury is keeping his good mood - oh well, he is sitting in Hong Kong with nice and humid sunshine while we are only sitting in humid...
So yes, you already guessed: The mood is grumpy winter depression. Hence it may not take you by surprise that I am coming up with a column like: How To Train a Husband.
I just got a little bit of an uplift when I counted our small change. Many a little does make a mickle! We already have almost 100 quid just from the sweets small change and penny collection. So it's good news that RFOS the board for strong ladies is made it back online now with an improved profile of yours truly where our RfL activities are now advertised as well - YaY!
And eventually I got started on the Aloe Vera site, but thanks to RFOS and all the blackening out stuff I didn't get it finished. So again: Next time. But I can promise you some weird pictures of me using that stuff, so stay tuned in.
For now I'm going to shut the web creating business down and quickly upload to the server.
Have a nice rest of the week and a sunny weekend!
Love
Rika

Back to Top
---

12th February - What is this weather doing?
Australia is burning and we are under ice. Something is definitely wrong. Although, when I was on my way home from the airport the taxi driver told me that in previous decades there have been proper winters here in East Anglia.

But it is a bit odd nonetheless, since there is a climate above Europe at the moment that even radiates into the Canary Islands. At least today we have a cold but crisp day. I just hate murky.

Fishies under ice!

The snowdrops and crocus don't seem to be bothered, though. I only realised yesterday that they are all over the place, while the fish pond is still frozen over.

And the weather doesn't have a good influence on feeding habits either. C'mon I am trying to recover from more than a week of cakes, sweets, creams and too much of the loveliest cooked meals altogether and my metabolism goes bonkers in the cold. More, more, more is the motto.
Thank You! Thank You! Thank You!

Even Imola confirmed that odd things are happening, and I just learned on Twitter that right at this very moment she had made apple, cinamon muffins - she must be mad!

And I am too... all I can think of now are these damn muffins, and I only live three miles or so from her. But showing up on her door step would be a bit too intrusive, I guess.

... Guess what? About an hour after I wrote the above dear, sweet, lovely, naughty Imola showed up at MY doorstep delivering two of the best muffins ever!
So what else is new?
I just managed to fiddle 'Twitter Updates' to the front page. Twitter is a funny little gadget where one can type or txt a maximum of 140 letters per message just to let people know what's going on in ones live. A bit like my foreign finches - tweet ... tweet - I am here! Where are you?

Carine is hopefully pleased with my performance. I have been quite reluctant to her ''twitter sugestion' and now we even have a feed on IL. Thanks Carine!

Since I got my account, right in time for people to follow me through my holidays, I got eight followers, while Stephen Fry one of my favourite Englishmen has 150K on his Twitter - Way to go!
I haven't properly updated you on my holiday shopping yet. Apart from the fact that the big shops were rather disappointing I stroke a bonanza again at La Ola, and so did mum.
Eventually I found the necklace that I was missing in my collection... and a few bits more. And I still will have to tell you all about the Aloe Vera.

Again I will have to delay that to next week. I want to do this in a proper little site like I did with LaOla, Nyx and Holly Blue and Off the Wall Accessories so far - all small local businesses without their own web space. So hosting them is our contribution to Incredible Business Ladies. However, building the sites needs a bit of time. So more next week.

Well, there is another piece of news - a wonderful one! Some of you might remember our lovely, bubbly Sonal. She was one of the founding members of our Afternoon Tea.

She got married in India!

Let's wish her all the best and a long and happy life with her new husband. He is one lucky guy! And let's hope that we will get some pictures soon - she promised!
And of course I have been thinking a lot about Race for Life and gave it a kick-start. The Team Members page is prepared and waiting for your entries, the pennies which have been gathering in my old fish bowl have been count and all the other ideas for fund raising are jotted down. Now it's all abit of wait and see for feedback.
So, that's all for today, nothing brainy or witty - it's more on the 'just information side of things - and the shopping tips only apply for travellers to Fuerteventura. However, I quite like the idea that IL site could become something like an advertisment support vehicle for business ladies who don't have the means to create their own sites.
Have a good - not too cold - rest of the week, enjoy what you are doing,
see you later
Love
Rika

Back to Top
---

5th February - First Holiday Impressions
After a wonderful week together with my mum I am now back from Fuerteventura. Although the weather was unusually cold this year we had a great time and I even got a tiny bit of a tan.

Unfortunately I didn't have the time to get all the material sorted for the site. So for today it is just my travel diary with first impressions and the review of the book that I have been reading. I had a lucky hand with my choice and am already looking forward to read more from Kate Morton.

The travel diary does not include the trip to Lanzarote. This is such an unusual place that it deserves a proper mentioning. So I will research a bit more to give you a bit more background information to go with my pictures.

And I haven't talked about my shopping yet. Jandia, the main tourist area was utterly disappointing, but I found some other gems which I will show you next time. Still no shoes to go whith the black dress from La Ola last year, though...
It is amazing, although I was on Fuerteventura the third time now we still found new things to do, and thus I will update the Gallery as well next week.

It's IL-Green
I guess the magic lies in the balance of knowing exactly what to expenct and hence having holidays starting from the moment of the arrival, and the new opportunities the place still has on offer. So I'm looking forward to the next trip already.
Since it is getting late I will stop for now. Please find more next week and then we will start straight through into the Race for Life preparations.
Have a lovely week and be safe on the icy roads,
Love
Rika


Back to Top
---

29th January - A 'Hello' from afar
When this goes live I will be sitting on a lovely island (not England...) and enjoying a wonderful dinner buffet which someone else has cooked and probably having a drink a bit later at the terrace bar!
This is the video I made last year. And again dear hubby has web site duty and will press the button for me.
As for the packing - of course I would have forgotten something! I just remembered in time to take some deodorant, and that in former times I would have had to pack a shaver which thanks to the marvellous invention of the laser I don't need to carry anymore. Carine has sent a comment with some more ideas which I am happy to publish. The rest of what I forgot I will tell you when I'm back.
before I go on to enjoying myself I wanted to let you know that Gemma, the organiser of the Chantry Park, Race for Life liked our web site of 2008 and what we did with the picnic and all. When I am back I will catch up with her and plan a bit of mischief. So I started our new Race for Life Diary for a first brain storm and if you have any ideas - however small, big, silly, unthinkable, ... they might be: Please, please let me know (rika@incredible-ladies.com). Even if you are sitting somewhere in the world and wouldn't be able to participate - I want your ideas!
I already have enrolled and set up my fund-raising page. Whether you are doing it on your own or together with us - the important thing is that you get involved either with fund raising or with funding. Well, of course I would like you to join the team. Would be great to top last year's number of team members.
Last but not least Carine eventually convinced me to set up my Twitter account. That is sort of a mood board where one can leave little notes which then get picked up by followers. A very quick way of communicating. So if you like get one too you even can tweet back. I have my little computer now and I hope that I will be able to access the wifi hotspot which they have in the club - YaY! If I am getting very excited I may even upload some pix on MySpace. Can't promise though...
Next week I will set up the RfL team members page and of course will let you know in more detail how the holidays went and if I did some shopping. Cross fingers, haven't been 'Rika shopping' in a long time.
Gotta go now and finish packing.
Thinking of you, have a great time, too
Love
Rika


Back to Top
---

Oh, I can hardly wait for my trip to start! I am sitting on my pile of stuff to take with me since a week, and thanks to Detlef's recent business trip even the suitcase already made it's way from the loft. Even Bimmel seems to think that it is time to go!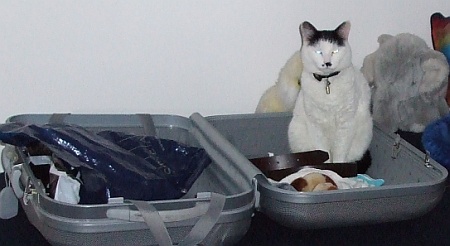 And No!
He is NOT our new cat!
He may think so, but he is certainly not!
He may sleep here at night and steel our food,
... and may have a day time nap once in a while...
but he definitely, surely, absolutely, utterly is NOT our cat!
And since I have sort of packed already I thought I'd do one of my usual lists about what I pack for hols to have it easier for future trips.
Now that I have a bit more time I eventually came round to making the door label for IL-HQ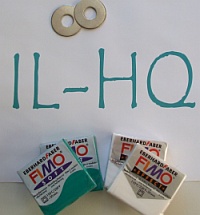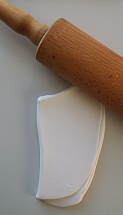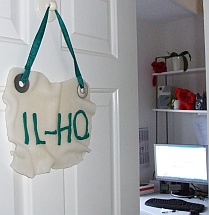 I had envisioned it a bit differently, but I misjudged the amount of Fimo needed, so now we've ended up with a crinkly sheet. Oh well, at least everybody knows now who is residing in this castle.
The other news is that Race for Life is back! It's the same timing like last year. Remember? I really enjoyed watching the website again. I am off for the last week of January and on the first Monday of February Race for Life has it's launch day.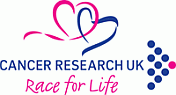 I am already really excited, one reason why I am sitting here at almost 11PM and still fiddling with the web site. I got a bit side tracked by an email from the organiser of the Chantry Park run, telling me that we have been one of the top fund raisers last year and if I would like to get in touch to share our story and for more ideas.
What a question? Of course I would! So I already worked a bit on that one. I will give you an update next week and when I am back we will know the date for the 2009 run. I am already looking forward to the challenge to build an even bigger team and to top our target despite the credit crunch!
And finally, due to the trip we will have the Afternoon Tea one week earlier. So I'm hoping to meet you this Friday for a chat and some naughty sweets...
Love
Rika


Back to Top
---

15th January - Back to the roots
I have decided to focus more on my training again. The past year I did so many things and I thoroughly enjoyed them, but I sort of neglected my training.

Well, I did it regularly, but since it is something that does me good and which I am really passionate about: I didn't do it with the passion it deserves, and part of my recent grumpiness might derive from that.
See! I'm always preaching that one should find a thing to be passionate about, but I truly believe: Moving the body is the one thing that eventually enables passion in other areas. And I as well believe that women should acknowledge more that they are actually the stronger gender. Sorry guys, but we really are!

So here is my article on Women and Strength. So the plan is to get into the best shape I can have by summer, find a new photographer since Babul won't be around, and to have a new photo shoot. Anybody interested in taking on the challenge to work around the signs of ageing just using the camera and without photoshop?
Well, what else is on: Credit crunch is still very much on people's minds and with it the employment situation. Nury had an interesting thought on how to reject rejections, and for the rest of it: I'm still trying to catch up with everything and everybody.

Gosh, I didn't even manage to write an IL New Years News Letter, and a lot of my dearest ladies haven't got a personal email from me in a long time. I still have a Christmas gift for my Australian friends that I actually had bought in time, but which never made it to the post office. And since I wanted to write a proper letter with it, they didn't even get an email. Shame on me!
The year is already old and in one and a half weeks time I'm off to Fuerteventura for my annual mother/daughter convention. We haven't decided yet on what kind of mischief we should focus - well I'm sure we'll find something. Mum already is there and enjoying a bit of sunshine. The lucky girl!

It's getting late now: Our nocturnal food thief just broke in. Every night the same game: Food, a bit of browsing closely watched by Vinny and then a little nap in a blue doughnut shaped cat bed that in the meantime has become his. Some time in the night he will vanish into the dark until the next time.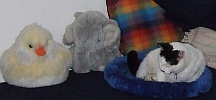 Night, night!
Love
Rika


Back to Top
---


Hoooo, it's cold outside! Apparently the coldest January days since 1978. Probably the rest of Europe is laughing about us. Minus 6 degrees for a couple of nights doesn't really qualify for arctic scenarios, but here in England we are just not prepared. We are not prepared for heat either, we aren't actually prepared for anything; however, I think cold is one of the worst especially since we are in a credit crunch at the same time and people can't afford heating.
I am not prepared anymore. My big tent like coat from Germany which I didn't wear for some years since I moved here eventually became a cat bed, and all my shoes are without any notable profile that would safe me from slipping in the road. Apparently that is true for the rest of the country. Emergency services are casting arms and legs of people who only wanted to take their rubbish out.

And my fishpond is half frozen. Not a good thing as it is losing water from the waterfall at the same time. Refilling is a bit of a problem since firstly the hose is frozen and after I had defrosted it in the conservatory producing a big puddle of water I had to realise that the tap was frozen as well. After defrosting that one with hot water the connector broke from frost weakened plastic. This afternoon eventually fishies got relief when I managed to fix a new one.

To cut a long story short: I like the clear crisp frost and the winter wonder land that comes with it - but I'm definitely not a winter person.
I have to admit that I am actually a winter wimp. It's good now! Nature had the frost that is needed to get certain things sorted, like freezing excess bugs to death and trigger growth and blooming in certain plants, and now it should be my turn again. I need warm sunshine for my old bones.
| | | |
| --- | --- | --- |
| Seagulls closing in for the bird food and two doves looking grumpy. The seagulls only come when they are really desperate. The garden is too small and too enclosed for them to land easily. | | |
Talking of it: another two weeks and I will be off to Fuerteventura again. Thank God - no, better: Thank my mum for inviting me! This will be my elixir to get me going through the rest of the winter.
Aren't they great?

The Ivy has to grow a bit more to cover the container. We have 8 of those plus many more normal pots.

I love our new office. It's like a jungle and we are waiting for a snake or so to sneakily move in and surprise us.

And I got me a treat for the trip. I told you before that I used to write my notes on a pad and then can't read it anymore. Now I got me - well, hubby got me - the cutest of all netbooks (that's a mini laptop). It's a Samsung and it's blue. I'm usually not going overboard regarding cuteness of a computing device, but this one is! So I'm hoping to get creative and eventually bring you some stories.

At the moment I'm still a bit numb. For some reason I'm all thumbs - gosh, everything I touch slips from my fingers and nothing interesting catches my eye or my mind. All I did was to plant two more containers for the office and to write some comment for Nury's columns - but the cold must have frozen my brain, the wit is stuck.
Now I will stop boring you, and rather refer you to said columns, one about New Year resolutions, and one about losing weight.
Have a lovely week and good luck with your New Years resolutions!
Love
Rika


Back to Top
---

3rd Januray - Update of the Update
Oh I love Raclette! As a matter of fact I love it so much that I even forgot to do a proper photo documentary about it, because I was busily preparing - and nibbling - and when the guests came we dived straight into it without taking a photo.
However, here is what I found on Wikipedia. It is a good description of the actual thing, but it doesn't tell how much fun it is - and how well to prepare in advance. So I wrote you a schedule for it wich sort of is a good guideline for other types of dinner or lunch parties as well.
I hope you have recovered from all the partying and now are ready to tackle 2009!
I'm looking forward to it and already am thinking about what challenges I would like to take on this year. Well, let's surprise each other - keeping you posted.
Love
Rika


Back to Top
---

Happy New Year 2009
to All of You!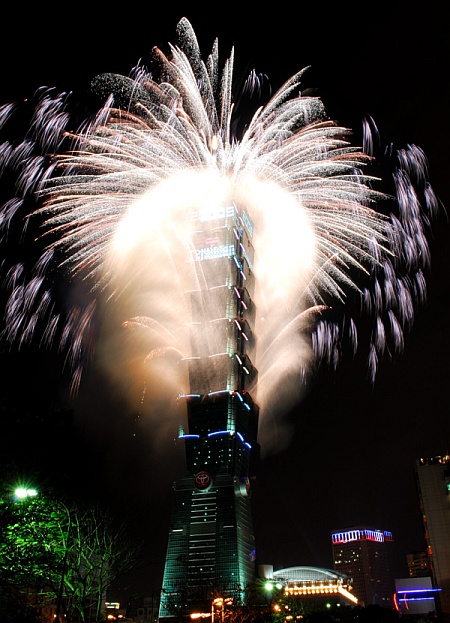 Taipei fireworks in 2008
you are free to share and make derivative works of the file
under the conditions that you appropriately attribute it,
and that you distribute it only under a license identical to this one. Official license

I hope you made it safely into the New Year and that the rest of it will stay like that. I am expecting guests in an hour and we will have a Raclette dinner. So tomorrow I will do an additional update of the site and will let you know what that is.
For now take care and enjoy your time!
Love
Rika


Back to Top
---